Transcending the state line: Expanded bus service and new taxi program now offered in Johnson County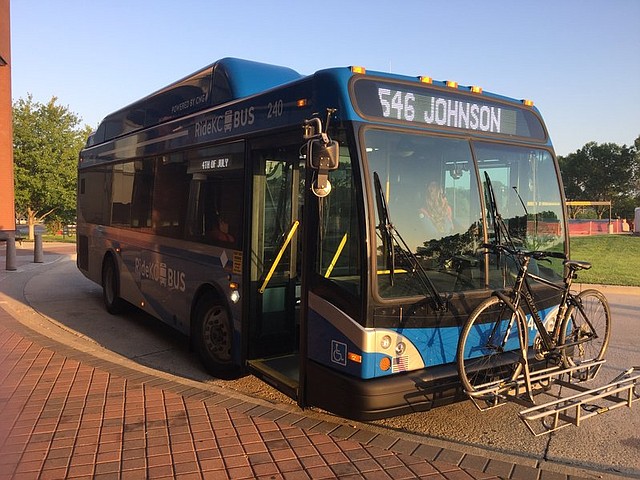 Better access to public transportation is wheeling toward Shawnee.
A new RideKC transit service was launched in Johnson County earlier this month, providing new and expanded regional connections.
Service on 75th Street in Shawnee has doubled, with buses running every 30 minutes during rush hour and every 60 minutes at mid-day.
The 75th Street route, known as the 575, also runs south on Quivira Road through Lenexa and Overland Park.
The new service will give residents better connections to places like Oak Park Mall, Shawnee Mission Medical Center and Johnson County Community College.
Regional connections to the Waldo neighborhood in Kansas City, as well as the Country Club Plaza and downtown Kansas City, are also available.
The expansion was funded by Johnson County, with the hopes the new routes will provide people with better access to employment opportunities.
"I think it's great the county is recognizing that transit is an important economic tool," said Dick Jarrold, vice president of Regional Planning and Development for the Kansas City Area Transportation Authority (KCATA). "We had been seeing a growing number of requests from businesses in Johnson County to expand our services."
In addition to the expanded Shawnee bus service, a new route was also added to 95h Street, and new destinations were added to a route serving Metcalf Avenue, a primary commercial artery through Overland Park.
Offering riders fluidity between Kansas and Missouri as they commute to work is vital, said Steve Klika, chairman of the KCATA board of commissioners.
"Our new expanded transit offerings open access to thousands of jobs on both sides of the state line," he added.
In addition to the expanded bus service, a new pilot program, focused on taxi service for senior citizens and those with disabilities, was recently launched in Johnson County as well.
The taxi voucher program is open to anyone 65 and over, as well as anyone with a disability in Johnson County.
Using 10/10 Taxi, KCATA states, eligible riders can go anywhere they want in the region up to 10 miles for $5 each way. Riders have to pay the cost of the fare after the first 10 miles, however.
The service is available any day at any time, including weekends and holidays.
"Public transportation is evolving toward on-demand services," said Jameson Auten, Chief of Regional Service Delivery and Innovation for KCATA. "A lot of times, a 40-foot bus isn't the solution for people, so this allows us to offer people access to transportation that makes sense for them. We'll never get away from traditional bus service, but it's important to look at other solutions and be more innovative."
The pilot program, funded by Johnson County and federal grants, will be reviewed after a year. If it seems viable, KCATA will make it a permanent fixture.
Anyone interested in the program should apply by going to ridekc.org to download an application, which can be found under the Mobility Services tab on the site under the heading, RideKC Taxi.
An application can also be obtained by calling 816-221-0660.
More like this story