Aspiring Shawnee actor takes on 'dream' role in beloved musical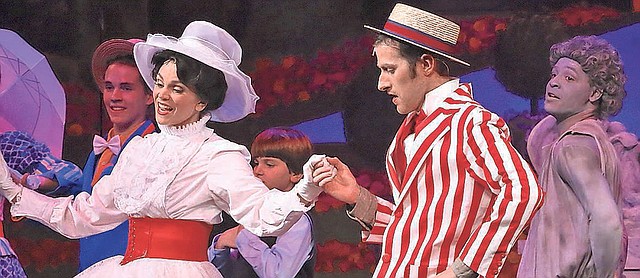 For Shawnee resident Erik Meixelsperger, portraying the lovable chimney sweep Bert in the musical "Mary Poppins" is the experience of a lifetime.
"He's always been an inspiration to me," the 27-year-old said of Dick Van Dyke, who played Bert in the acclaimed Disney film on which the musical is based. "I always channeled him whenever I got the opportunity to, but I never got the chance to play this specific role. And finally, I got the opportunity, and it's like a dream come true."
"Mary Poppins," which opened Saturday, is a co-production of Theatre in the Park and the Jewish Community Center of Greater Kansas City in Overland Park. Playing the title role is Jennifer Renfrow of Warrensburg, Mo.
The show is currently being performed at the community center's White Theatre, where it will continue for a series of performances beginning at 7:30 p.m. Thursday, followed by showings at 7:30 p.m. Saturday, July 21 and July 23. Matinees at 2 p.m. will be held Friday and July 24. After that, the same cast will bring the show to life July 29-31 and Aug. 3-6 at Theatre in the Park.
Meixelsperger last performed with Theatre in the Park in "Cinderella" about six or seven years ago, he said. And he landed his current role with the theater almost by accident. About a week before auditions, the aspiring actor had found out he'd been accepted, on a full ride, into Florida State University's Master of Fine Arts acting program.
"My family saw they were doing 'Mary Poppins,'" he said. "I was just planning on taking it easy until we move, but then I saw that, and was like, well, looks like I'm auditioning."
Meixelsperger draws a lot of inspiration from Van Dyke, and he still remembers watching "Mary Poppins" for the first time as a youth.
"The second I saw Dick Van Dyke go on camera, I was instantly drawn to him. I've kind of channeled him in my acting career," Meixelsperger said, and not just because of their physical similarities. "With comedy, he was just so physically in control of everything, so loose. And he was tall and skinny, and I am the epitome of a tall and skinny person."
Some of Bert's best qualities in both the film and musical, Meixelsperger said, include his loyalty, especially to Mary, and his ability to stay young at heart.
"The thing I like about Bert is the same thing I like about one of the themes of the show ... embracing your inner child," he said. "Most people normally grow up so quickly, but Bert can keep that inner child within and continue to be one of the sweetest men."
Shortly after the show closes, Meixelsperger will be headed to Florida, where he'll have the chance to act professionally with a repertory theater as part of the MFA program. His Theatre in the Park experience has proved to be an immensely positive send-off, however.
"I've absolutely loved it," he said. "It's a rare occurrence when you meet a team of people that all have instant chemistry together. ... We're all a team, and I don't think I could have done it with a different group of people. Everyone has put in an insane amount of work, and the end goal is what we now have a great show with great people in it."
Ticket information and more details can be found at http://bit.ly/29S8OGr and at www.theatreinthepark.org. The Jewish Community Center is located at 5801 W. 115 St., Overland Park. Theatre in the Park is located in Shawnee Mission Park and is accessed by an entrance at 7710 Renner Road.