Shawnee Mission school district reminds parents it does not endorse candidates
The Shawnee Mission School District on Tuesday released a statement reminding parents that it does not endorse political candidates.
As the primary election approaches, the district made the statement noting that candidate mailings implying an endorsement were inaccurate.
"School district officials communicate with elected officials in advocacy-related efforts regarding issues that impact the school district and its students," the district stated on its website. "However, any attempt to convey endorsement by the school district of a specific candidate for office would be inaccurate and inappropriate."
In Shawnee, one candidate has been noted in the local media for using the district's letter heading in his promotional materials.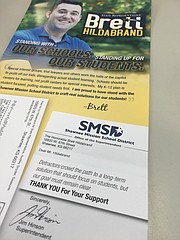 Incumbent Brett Hildabrand's postcard touting the 17th District representative's support for education doesn't flatly state the district has endorsed him, but it uses a letter that seems to have been an advocacy letter sent to legislators during school funding discussions.