Design for western Shawnee library shrinks slightly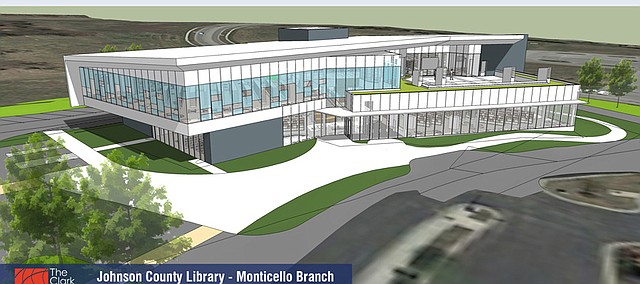 In a Thursday update provided to the Johnson County Library Board of Directors, architects said they have been able to shave 3,000 square feet from the Monticello Library's design to match the 30,000 square feet originally planned for the building.
In June, the library's architects, Clark Enersen Partners, said they were estimating 33,000 square feet to meet all the needs in the building, which caused some concern that the building would not come in on budget. Architects said the square footage might change as the design process continued, and on Thursday, they confirmed that they had been able to reduce the square footage, according to Christopher Leitch, community relations coordinator for the library.
Leitch said the reduced square footage didn't impact one particular area of the building plan, but was "more of a shaving off at the edges and corners to generally condense the entire footprint."
"Nothing major has been jettisoned, and we're still meeting the proposed building program," he said.
The preliminary library design calls for two stories with a large children's area, long stretches of glass walls, potentially with a rooftop patio and multiple meeting rooms.
As a county capital project, the Monticello Library budget includes One-Percent-for-Art, a program established in 2006 that commits 1 percent of the building cost to public art. The library board learned that an Artist Selection Panel has been seated and has met for orientation, and a request for proposals has been released to artists.
The panel, including building architect, county planning staff, community arts professionals, a library staff member and a representative of the Monticello neighborhood, plans to have proposal review completed by the end of the year, well before the Spring 2017 groundbreaking for the new building.