Senior trio sets tone for Indians at Shawnee Mission North football camp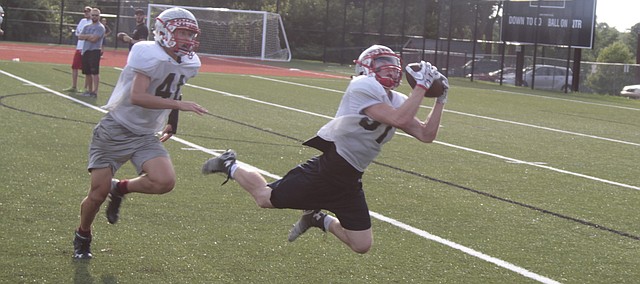 Overland Park — As Shawnee Mission North senior football players Will Schneider, Danny Presler and Marcos Garcia prepare for their final high school season, they have taken the time to look back at their careers in Indian uniforms up to this point.
The SM North trio has played on the varsity level for the past three years, and Presler said the growing pains hw, Garcia and Schneider experienced will only serve as added motivation for this fall.
"Getting our butts kicked freshman year made us really tough. It helped us a lot," said Presler, who plays right tackle and left defensive end. "For the past years, we've realized how much difference that one year makes. Experience is a big thing when it comes to playing football."
Presler and the Indians have been going through the team's camp this week. While the Indians have been going through workouts for the majority of the summer, Schneider said it was nice to turn it up a notch in camp.
"We have pads on, so it's a lot more about being physical. That physical wear and tear in football season, you've got to start getting into it and used to wearing a helmet every day and used to the constant, 'You're hitting this kid. You're hitting this kid,'" the SM North quarterback said. "It can't get boring to you. It's got to be fun and exciting every day because you've got to get used to it for it to be fun."
Although Schneider had Presler leading the offensive line in front of him and Garcia lined up in the back field, he hasn't had his full complement of weapons on offense with Avante Williams and Billy Conaway out of town at an AAU basketball tournament. At first, Schneider was disappointed the Indians offense wouldn't be clicking on all cylinders, but he's been pleased with the players who have stepped up to take their first-team reps.
"Camp has been kind of weird because we've been missing part of our starting offensive core group," Schneider said. "You think it's going to be a detriment at the beginning of it, and then you find out what kind of talent that you have behind you and how deep you are. We have some great depth behind us with Nate McCoy and Zach Pittman working really hard right now."
The offensive and defensive lines have also shown a steady improvement throughout camp according to Presler. The senior lineman has pushed himself this summer by attending college camps at Missouri, Kansas, Northwest Missouri State, Pittsburg State and Northern Iowa because he knows the success of the team is largely contingent on how each side of the line performs.
"At first, we started off a little shaky," Presler said. "Everyone is trying to push us to go harder because we're the base of the offense and defense. By the end of camp, we've kicked it up and picked the intensity up a lot, so that's good."
Camp will conclude Friday for the Indians, and it will include the added element of facing teams in different uniforms than their own. North will join SM Northwest, BV West, Perry-Lecompton and Bonner Springs at BV West as part of a team camp hosted by Emporia State.
"We are not game ready, but I don't know if anyone would claim to be at this point of the season," SM North coach Ben Bartlett said. "We're definitely looking forward to the opportunity for the boys to see some live competition against a team that is not themselves."