Stag's Creek will offer a cleaner gateway to Shawnee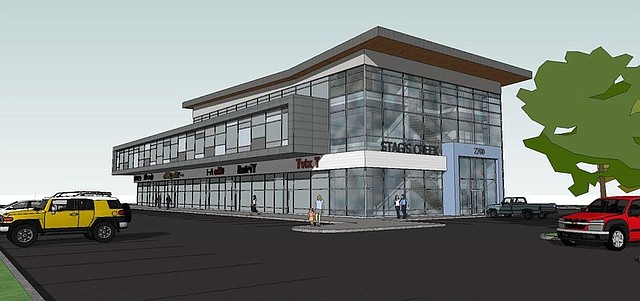 For decades, the gateway to eastern Shawnee has caused drivers to cringe, with dilapidated buildings and vacant storefronts sitting along the north side of the city's main drag.
Now, that's all about to change.
Progress is swiftly moving forward on the Stag's Creek development, which will include a new modern three-story office building to sit northwest of Goddard on Shawnee Mission Parkway's frontage.
A vacant used car lot, laundromat, dry cleaning facility, drive-in restaurant and pawn shop are already being demolished to make way for the new development.
The 35,000-square-foot office building will feature approachable professional office space — for a bank or dentist, for instance — on the first floor and a commercial parking structure underneath.
The building will be constructed out of glass, steel, stone and wood elements.
"We spent a great deal of time making sure we projected an image unique to Shawnee," said Kevin Tubbesing, the developer, who owns both Stag Commercial and The Land Source. "It will be distinctive as people enter Shawnee's eastern gateway. It will be the most attractive building in the city."
At its meeting on July 6, the Planning Commission approved rezoning for the site, which will eventually include an additional 2,800-square-foot retail building as well.
The city council will vote on the rezoning item at its meeting on July 25.
The city is also making stormwater improvements by realigning the creek nearby.
Last week, the Chamber of Commerce held a glass breaking ceremony to celebrate the new development.
Elected officials and other community leaders threw gold rocks at the windows of buildings being demolished for the project.
Many of those who attended expressed their excitement.
"It's been a long time coming," said Shawnee City Councilman Jeff Vaught. "The stars really aligned for this project because issues with the creek were happening at the same time."
Councilman Jim Neighbor agreed.
"This is going to energize the area," he said. "It will draw in more business and make the city more attractive to young people. It's going to make downtown more dynamic."
Former Shawnee mayor Jim Allen, who grew up in the city, said that section of Shawnee Mission Parkway has seen hard times for decades.
Those shops, many built in the 1960s, flourished when Shawnee Mission Parkway was a two-lane road and there was plenty of room for parking and development. But when the corridor was expanded to six lanes, it significantly reduced the land available to those businesses.
Allen is looking forward to seeing that former energy restored.
"A lot of progress is being made in Shawnee, which is exciting to see," he said. "Developers are investing, and I find that very encouraging. This will be a big, dramatic change for Shawnee in the long-term, so I think we're heading in a good direction."
Tubbesing is no stranger to taking Shawnee in a new direction.
His other projects include Stag's Grove, which is the Dunkin' Donuts building on Shawnee Mission Parkway, Stag's View, on 75th and Quivira, and Stag's Run, on 75th and Switzer.
"I like to take things that aren't attractive and change them into something the city can be proud of," said Tubbesing, who founded Stag Commercial in 2001. "Its important to build in already developed areas and utilize existing infrastructure, whenever possible, to reduce suburban sprawl. It's a better use of assets economically."
He hopes Stag's Creek will be a positive part of Shawnee's history.
"It's about providing a new vision for people as they enter Shawnee," he said. "This will instill newfound pride into the city, instead of that embarrassment that has existed there for years."
Construction on Stag's Creek is anticipated to begin in September.