Shawnee Mission's Jump Start program for future kindergartners expands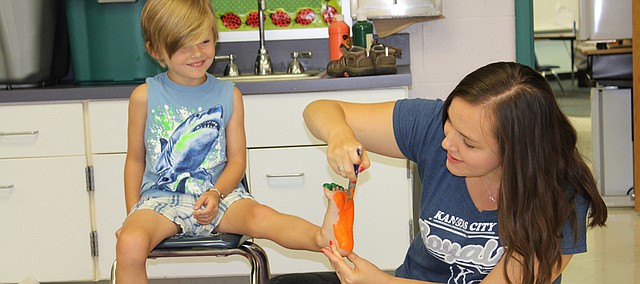 It may only be July, but at Bluejacket-Flint Elementary School on Friday, a number of soon-to-be kindergartners were getting ready to learn.
One group is working on their letters and sounds.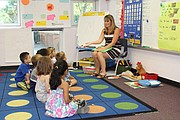 "When I say 'minion,' you say 'mmmmm,'" teacher Katie Heier instructed the group.
In the next room, teacher Jacque Jones was holding up cards with dots, asking students to first show with their fingers how many dots are on the card, then say the number out loud.
The students participating in the activities were part of Shawnee Mission school district's Jump Start, a three-week program in which future kindergartners visit the school they will attend in the fall to learn the ins and outs of kindergarten.
Laura Brodon, administrative intern managing the program at Bluejacket-Flint, said the program, now in its third year, has proven to be a success.
"In the end, after the three-week Jump Start program, all of the kiddos, no matter where they were when they started, end up being kind of the leaders in the classroom, because they've already been through three weeks of being in their kindergarten classroom, more than likely with their teacher," Brogdon said. "Sitting in a chair, using carpet time, and raising their hand and listening."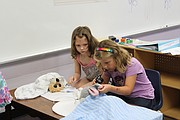 The program was piloted in 2014 at about five district schools, with between 10 and 30 students at each location in classes of about 10 each. It expanded a bit last summer, and once again this year. Now serving more than 200 kindergartners-to-be, it is offered at 13 different locations, including three in Shawnee, with Broken Arrow and Shawanoe in addition to Bluejacket-Flint.
Participants this year were identified as suitable for the program through the kindergarten roundup events and screeners held this spring. Participants are a mixture of students who may not have had preschool and could use a "jump start" to prepare them for kindergarten, and students whose parents wanted them to participate.
Brogdon said all the parents she has dealt with have been very supportive of the program. "Really it kind of comes down to some of these kids, this is the first time they are leaving their parents," Brogdon said, saying it helps both students and parents learn to be apart from each other during the school day.
The teachers in the program are most often the actual kindergarten teachers the students may have, but if those teachers have summer schedules that don't allow them to take part, Jump Start finds teachers elsewhere in the same building. At Bluejacket-Flint, Heier is a third-grade teacher, while Jones is a first-grade teacher.
Expanding the program beyond the 13 schools it is at this year will depend on need and funding. The district funds the program through Title I and community sponsors. It decides which schools will have the program based on screeners that show which building has the most need.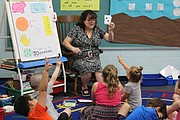 Brogdon said if the need for the program was found at additional schools, or even all schools, she thinks the district would find a way to offer the program.
"Because it is that great," she said.
Heier said she was amazed at the students' progress after just the first week.
"They're getting the routine," she said. "And that's a big part of kindergarten, too, just knowing that you're going to follow a schedule and follow directions."