Candidate questionnaire: Calvin Hayden, Johnson County Sheriff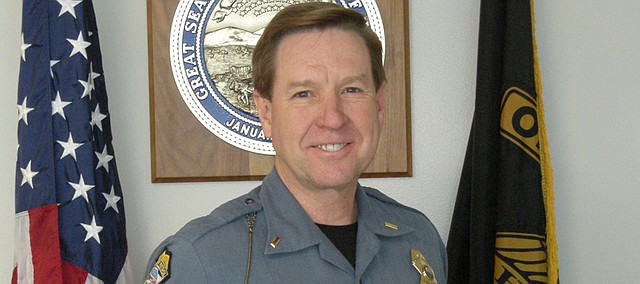 The following are Johnson County Sheriff candidate Calvin Hayden's responses to the Shawnee Dispatch's candidate questionnaire. Hayden is running as a Republican in the primary against Dennis Hammer and John Resman. No Democrats filed for the seat.
Age: 58
Education: Kansas Police Academy Johnson County Community College, Drug Enforcement Administration Narcotics Officer Training, Kansas Certified and N.R.A. Certified Firearms instructor, Northwestern University Supervisors Training, University of Kansas Certified Public Managers Program, F.B.I. Law Enforcement Executive Development Academy Training, S.W.A.T Management. I have attended Johnson County Community College, Kansas State University and the University of Kansas.
Occupation: Retired
Family: Married to Kelly. We have five children and three grandchildren.
Years lived in Johnson County: 56 years
Previous experience: After graduating from high school, I entered the U.S. Army Reserves where I served for six years. I was hired by the Johnson County Sheriff's Office in 1981. I have a wide range career path within the Sheriff's Office from patrol to undercover, to firearms instructor and training, detention, dispatch, watch commander and shift commander. In 2005, I was deployed to assist with Hurricane Katrina and the Coffeyville flood as a strike team leader.
In 2008, I retired from the Sheriff's Office as a Lieutenant. I continued my community service where I ran for County Commissioner of District #6 and was elected. I served in that capacity for four years.
Other Community Service: Lexington Township and later the Northwest Consolidated Zoning Board, Johnson County Rural Water District #6 Board of Directors, Johnson County Fire District #3 and later Northwest Johnson County, Consolidated Fire District Board of Directors, Mental Health Board, Johnson County Water District #7 Board of Directors
What made you decide to run for Sheriff?
I feel that my operational experience within the Sheriff's Office combined with my experience as a County Commissioner would be an asset to provide the leadership needed to support the citizens of Johnson County.
What special qualifications would you bring to this office?
The other candidates have an abundance of experience in one division within the Sheriff's Office while I have worked in numerous divisions within the Sheriff's Office. I spent four years working as a County Commissioner balancing a budget for Johnson County in excess of 780 million dollars. During the past 25 years, I have served on numerous Fire District Boards, Water District Boards, Mental Health Board, and Planning Commission Board to ensure that Johnson County standard of living remains as the best place to live and raise a family. While the other candidates say they "will" I can truly say "I have" as my experience shows.
How do you plan to stay in touch with constituents if you are elected?
Staying in touch with the citizens of Johnson County is essential for the Sheriff. Regular meetings with citizen groups, schools, city Police Chiefs, elected and appointed officials is a must. Not only should the Sheriff make regular contact with these groups, but also our deputies need these relationships as well. I am committed that the Sheriff's Office will reach out to all citizens whenever we can.
As you have been campaigning, what issue have you found is most important for constituents? How would you address this issue?
I have heard many concerns from constituents ranging from sanctuary cities, officer involved shootings but the most asked question lately is about the overtime issue at the Sheriff's Office.
In your own opinion, aside from or in addition to the above issue, what are the three most important issues facing the Sheriff's Office and how would you address them?
The immediate problem is the abundance of overtime being used at the Sheriff's office. The second and third issues are recruitment and retention of our deputies.
I have experienced during my career with the Sheriff's Office times when we had no relief factor built into our schedule and deputies were required to work overtime. The overtime was a "fact of life", but was usually predictable and for a defined period of time (vacations, holidays, etc.). The situation now is much different in that with 40+ positions short there is no relief in sight for our officers.
I have a plan I believe will resolve this situation and greatly reduce the overtime hours and relieve the obvious stress that our deputies are under. Recruitment needs to be an all in priority for our department. It takes too long to process and hire officers. We must update and streamline the hiring and recruitment process. The average time to recruit a deputy is six months and is not acceptable. We can also offer hiring incentives to assist with attracting qualified applicants. We must also approach this from a crisis all hands on situation, which means every deputy from the top to the bottom will assist with filling overtime positions. It is easy to complain when you don't have any skin in the game, leading from the front, regardless of rank.
We also need to analyze and review what positions are absolutely essential and evaluate what are not. I believe retention should be enhanced. Our deputies should be paid at a rate that is very competitive with surrounding Police and Sheriff's Offices of similar size. Our deputies need a defined fair career path, which is based on measurable criteria that are easy to understand and does not change.