Popular Shawnee toy store swings over to a larger location
Manny Arroyo effortlessly spun his yoyo in the air, flipping it side-to-side.
Standing nearby were a handful of other kids, swinging colorful yoyos or juggling plastic bowling pins.
The sight was a familiar one on a Thursday afternoon at Go Big Skill Toys in Shawnee.
The store, located at 12156 Shawnee Mission Parkway, has become a popular destination for people of all ages since it opened nearly three years ago.
It has become so popular, in fact, that it recently moved into a bigger space to accommodate the dense crowds.
Last month, Go Big Skill Toys took over larger retail space next door, formerly Rocket Clothing Exchange, in 10 Quivira Plaza shopping center.
The new store offers wider aisles, more toys, and now separate space for a children's play area and activities workshops.
Before the move, the children's play area and the workshops were in the same space, forcing staff to put away toys, such as train tables, to make room for yoyo and juggling classes.
"I had little kids crying because they were so sad about not being able to play and that's when I knew I had to find a place big enough to have both at the same time," said Cesar Conde, the owner of Go Big Skill Toys. "Because children are what this store is all about. It's a toy store."
On Saturdays, yoyo and juggling classes are packed, drawing dozens of people to the store.
With the new space, shoppers in wheelchairs are now able to maneuver around aisles comfortably as well.
For Manny, a yoyo and juggling enthusiast from Shawnee, the larger space is a blessing.
The 11-year-old has been coming to the shop after school and on weekends for the past two years because he sees the shop as a refuge.
"Playing with the yoyo is really relaxing," he said. "I do it when I'm stressed out because it calms me down. It's nice to focus on my tricks without bumping into people now."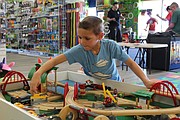 Nearby, Candace Walker, of Kearney, Mo., watched her two sons, Caleb and Colton, learn new yoyo tricks.
"I always thought yo-yoing was just up and down," she said. "I didn't realize there was so much more to it."
The family stumbled upon Go Big Skill Toys during a google search a few months ago.
For them, the store is worth the drive twice a month.
"This store is a nice legacy to the community," Walker said. "He (Conde) is giving them his heart."
The Walkers are not the only family who drive a long distance to visit the toy store.
Conde said every month, numerous customers drive up from as far as Oklahoma and Colorado to buy specific toys from his shop, most which can't be found anywhere else.
One of his best-selling toys, for instance, is a quirky penguin memory game by Blue Orange.
When Conde travels to toy conventions in New York City, Chicago, and Las Vegas, he looks for unique and inventive toys that encourage learning, creativity, and imagination.
And of course, his store is stocked with classic toys, such as dominos, building blocks, and yoyos.
After all, yoyos are what prompted Conde to open his store in 2013.
Conde's son, Ben, a 23-year-old living in West Hollywood, Cal., is a national yoyo champion and demonstrator, who encouraged his father to open a toy shop, which featured yoyo classes.
Conde, who watched Ben master the yoyo since age four, hopes the activity catches on in Kansas.
In the age of Facebook and phone apps, he sees yo-yoing as a way for humanity to unwind.
"Here, you can build friendships and learn from other people," he said. "We encourage people to put their phone away and just focus on learning the tricks and having fun."
For more information about Go Big Skill Toys and its workshops, visit www.gobigskilltoys.com.
More like this story