Johnson County residents invited to free cancer screening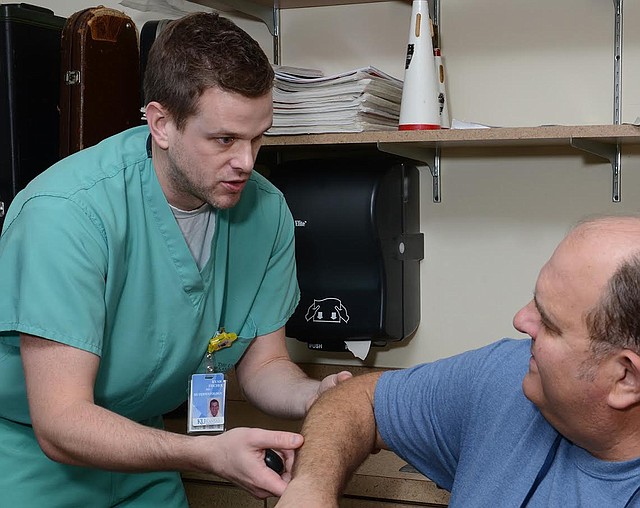 It is a scary disease, but cancer can be defeated if detected early.
This weekend, Johnson County residents are invited to a free cancer screening from 10 a.m. to 1 p.m. at the Old Mission Lodge, located at 5201 W. 75th St. in Prairie Village.
It is one of 26 free cancer awareness events the Kansas Masonic Foundation (KMF) is sponsoring across the state this year.
KMF conducts the screenings in partnership with the Midwest Cancer Allicance (MCA), the outreach division of the University of Kansas Cancer Center, and the KU Medical Center medical staff.
"Cancer is one of the major killers in the country, and a lot of people don't go to the doctor very often, so they don't get checked out," said Bill Leonard, an Old Mission Lodge volunteer. "It's important for people to be on top of their health, because even if you feel fine, you never really know. These screenings can catch cancer in its early stages."
According to the Skin Cancer Foundation, 5,600 Americans are diagnosed with some form of skin cancer every day, and 205 of those are diagnosed with melanoma, the deadliest form of skin cancer.
Close to 9,000 Americans die of skin cancer every year, and the Centers for Disease Control reports that Kansas has higher than average rates of skin cancer in the U.S.
"Diagnosing potential problems early on can make a big difference in successful treatment," stated KU Med dermatologist Dr. Ryan Fischer.
According to Brooke Groneman, the outreach director for MCA, more than 6,000 Kansas residents have attended the Masonic screenings over the past few years.
The event in Johnson County will provide skin and prostate cancer screenings as well as bone density tests and health education materials.
In addition to funding screenings over the past 15 years, the KMF created The Kansas Masonic Cancer Institute and developed health initiatives like the Bob Dole Prostate Cancer Research Fund and the Oncology Nurse Navigator and Psychosocial Oncology Endowments at University of Kansas Medical Center over the past few decades.
To learn more about the Johnson County screening event, call 913-593-5890.
For information on the Kansas Masonic Foundation's other free cancer screening events in 2016, contact the Midwest Cancer Alliance at 913-588-4719 or the Kansas Masonic Foundation at 785-357-7646.