Shawnee man charged with robbery after allegedly stealing taxi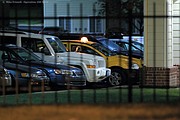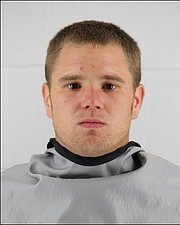 A Shawnee man has been charged with robbery after he allegedly stole a taxi and then drove home early Saturday.
Overland Park Police Department Public Information Officer Richard Breshears says officers were called to the area of 95th Street and Switzer Road around 3:30 a.m. Saturday.
"Officers contacted the victim and learned the suspect, later identified as Matthew Hickman, near the intersection," Breshears said. "Officers located the vehicle near W. 65th Street and Maurer in Shawnee and located Mr. Hickman."
The Sheriff's Office booking log shows, 24-year-old, Matthew Lynn Hickman lives at the Shawnee address where he and the stolen taxi were found.
Radio traffic indicates the cab company used the vehicle's GPS to get an approximate location. Shawnee officers were dispatched to the area and located the yellow Dodge Caliber in the parking lot of the Shawnee Station Apartments in the 15800 block W. 65th Street.
Officer Breshears says, "officers developed probable cause to arrest Mr. Hickman for theft of the vehicle."
Major Dan Tennis of the Shawnee Police Department confirmed that Shawnee Police assisted Overland Park with their investigation.
Operation 100 News was on scene when officers went inside the apartment building and came back out with a man in boxers and handcuffs. Video of Hickman's arrest can be found on the Operation 100 News Facebook page.
Hickman's next court appearance is scheduled for Tuesday, August 2 in Johnson County District Court. He should be considered innocent until proven guilty.
---
Operation 100 News provides overnight news coverage for the Shawnee Dispatch. Follow on Twitter for real-time updates.
More like this story