School's out for summer: But there's still lots to keep kids occupied, engaged in Shawnee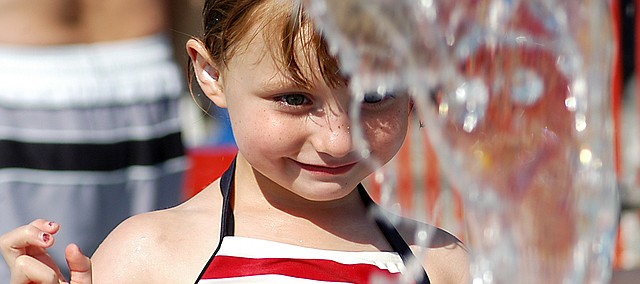 Summer break is officially here for students in the Shawnee Mission and De Soto school districts.
And while you might have a number of plans in the works, you may be stumped for ideas of things to do with your kids in between the vacations, barbecues, pool parties and family get-togethers.
Luckily, the city of Shawnee has quite a few options to keep kids entertained, occupied and engaged over the summer months. Check some of them out in our guide below:
Johnson County Library Shawnee Branch, 13811 Johnson Drive
• Read to a Dog
For younger youths still learning how to read, the library is bringing back its Read to a Dog programming, in which youths will have the opportunity to practice their skills by reading aloud to certified therapy dogs. The program is presented by Pets for Life.
Time: 10:30 a.m. to noon
Dates: Every Tuesday through the months of June and July, as well as Tuesday, Aug. 2
• Kids Create!
Youths ages 4 through 8 are invited for craft hour at the library with Miss Michelle. Caregivers will need to be on hand with the younger kids in this age group.
Time: 10-11 a.m.
Dates: Every Thursday throughout the month of July
• Zoomobile
The Kansas City Zoo's popular Zoomobile program will be making a stop at the Shawnee library in July. This interactive program will allow youths ages 4 through 11 to forge a connection with nature and wildlife through live animals, fascinating artifacts and science activities.
Times: 2-2:45 p.m. and again at 3-3:45 p.m.
Date: July 14
Wonderscope Children's Museum, 5700 King St.
Throughout the months of June and July, Wonderscope will be offering a program series for youths called Summer Wonder. Nearly every weekday, Summer Wonder will introduce youths to cooking, gardening, safety tips and animal care through hands-on activities with experts that include chef Mark Juhnke of Blue Pot catering, Wonderscope's master gardeners and a veterinarian with Fairway Animal Clinic. The program series will also include Wonderscope's popular storytime every Friday. Each day's program will be free with museum admission.
Time: 10-11 a.m.
Dates: June: Friday, June 7, 9, 10, 15, 17, 21, 23, 24, 29 and 30; July: Dates still to be determined.
Shawnee Mission school district, Indian Woods Middle School, 9700 Woodson, Overland Park
http://summerschool.smsd.org/Pages/Summer-Enrichment.aspx
If your child has an interest in music, drama, making movies, science or technology, you might want to consider enrolling them in one of the Shawnee Mission school district's hands-on Summer Enrichment classes, which kick off June 13 and run through July 29. These weeklong classes are designed to develop interest and participation in a variety of different skills, from sewing and babysitting to iPads, art and science. Classes are available for students entering grades one through seven next school year. And a Smiley Face Camp centering on stories, arts, crafts and music will be available for those entering preschool and kindergarten. Tuition is $90 per week for one class or $180 per week for two. More information, including how to enroll online and a full course catalog is available at http://summerschool.smsd.org/Pages/Summer-Enrichment.aspx.
Times: Morning classes are from 9 a.m. to noon; afternoon classes are 1-4 p.m.
Dates: Monday through Friday June 13 to July 19; no classes will be offered the week of July 4.
Shawnee Parks and Recreation, classes and programs offered at different locations throughout the city
https://www.recreateshawnee.org
Over the summer months, Shawnee Parks and Recreation will offer a number of different classes and programs for youths, from swimming and diving to arts and crafts to sports and dance. Lots of personal enrichment classes, including CSI Crime Lab, Don't Forget Your Manners and Kids in the Kitchen, will also be offered. Class fees vary, but more information, including a full list of available classes, is available at www.recreateshawnee.org.
Times: Vary depending on the class
Dates: Vary depending on the class, but programs will be offered throughout the months of June and July and into the beginning of August.
Summer Concert series, held at different parks throughout city
www.cityofshawnee.org
For a free evening of musical, family- and youth-friendly entertainment, get your blankets or lawn chairs ready and plan to put Shawnee's Summer Concert Series on your agenda of plans for the season.
The series will kick off July 8 at Swarner Park, 63rd and Lackman, with a performance by The Suburbans, an area cover band that performs some of the top hits from the 80s, 90s and today. Area band Private Stock will provide the entertainment in the second part of the series on July 22 at Stump Park, 47th and Woodland, with Landrush rounding out the series on Aug. 5 at West Flanders Park, 55th and Nieman.
Fireworks will follow the July 22 performance. Coolers are welcome, though food and beverages will be available for purchase at each concert.
Time: 7-9:30 p.m.
Dates: July 8, July 22 and Aug. 5