Old Shawnee Days Turns 50
Anniversary Bash Looks to Make Annual Celebration 'As Special As That First Year'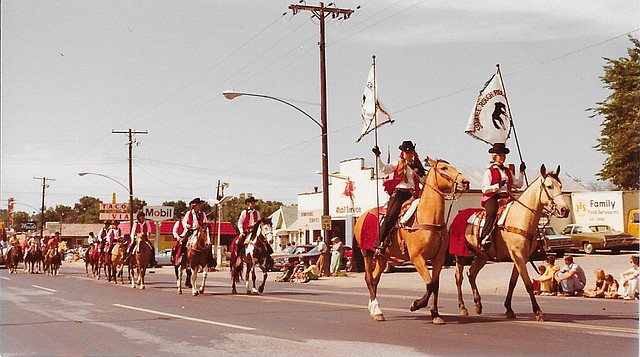 The aroma of sizzling funnel cakes sprinkled in powdered sugar. An endless stream of colorful parade floats. Shrieks of laughter echoing from atop the brightly lit Ferris Wheel.
These sights and sounds and smells piece together the summer childhood memories of thousands of Shawnee residents who grew up going to Old Shawnee Days.
The festival is a slice of Americana brought to life every June. It's four days filled with crafts and vendors, a carnival and a parade, and musical acts and games.
And now, Old Shawnee Days is celebrating its 50th anniversary.
Back in 1966, the festival was born out of a movement to preserve Shawnee's history.
That March, a group of community leaders fought to save the city's oldest building, the territorial jail, from being demolished. The jail, constructed in the early 1800s, sat near Nieman Road and Johnson Drive.
One of the community leaders who fought tirelessly to save the jail was Gene Amos, whose family ran the Amos Family Funeral Home.
His daughter Amy Ruo, who was 4 years old at the time, said even as a young child the excitement in the air was undeniable.
Around town, people wore shirts that said, "Save the jail," with an illustration of a person behind bars, she recalled, with a laugh.
By raising enough money, the group took apart the jail, stone by stone, and rebuilt it in its current location, where Shawnee Town 1929 now stands.
To dedicate the jail, the community held a parade. Hundreds of horses, antique cars, floats, motorcycle policemen and horse drawn carriages strode up and down the streets of downtown Shawnee.
Pat Donovan, owner of Donovan's Service, an automotive repair center, fondly recalls riding in the parade that bright sunny day.
His grandfather, who founded the repair shop in 1937, had a shiny black Ford Model T sitting in his shop, in need of repairs. When he fixed it up, the owner graciously allowed him to drive it in the first Old Shawnee Days parade.
Donovan and his brother proudly waved to their friends, who were standing on the sidelines, as they glided down Nieman Road in the vintage ride.
"It was a very big deal," Donovan said. "I've been in the parade a few times since, but nothing was ever as special as that first year."
Now, Donovan takes his own grandchildren to the festival each summer.
He also brings out his 1936 John Deere ice cream machine during the parade and serves the frozen treat to the crowd watching the parade in front of his shop, which sits at 59th and Nieman.
A year after the festival was founded, the city's historical site blossomed.
Before the 1967 Old Shawnee Days celebration, several more historical buildings were added to Old Shawnee Town, such as a general store, an undertaker and cabinet shop, a replica of the original Shawnee State Bank and a replica of the bandstand that once stood in the park where City Hall stands today.
During those early years, Ruo said, the most popular games were the buffalo chip throwing contests and the dunk tank.
Other favorite activities among kids included small carnival games, such as picking the duck to win a prize or throwing rings around bottles.
"When you were a kid, Old Shawnee Days was the start of summer," she said. "You couldn't wait to walk down Johnson Drive with your neighborhood friends and grab a hot dog or some barbecue."
Every year, Ruo's family enthusiastically dressed up for the festival. Her dad would dress up like an old-fashioned undertaker and ride in a horse drawn hearse during the parade.
Her mother, Margaret, dressed up as a pioneer woman.
Her grandfather would sometimes dress up as a cowboy.
And even Ruo agreed to don pioneer girl attire once in awhile as a teenager.
As she got older, her role with Old Shawnee Days became more pivotal.
She served as the parade chair for several years. She sold turkey legs. She's even organized the entire festival a couple times.
This year, she serves on the event's 50th anniversary committee.
It's a fitting role for a woman who helped revive the festival nearly two decades ago.
The festival, she pointed out, was initially run by the Shawnee Historical Society, but those volunteers were getting older and couldn't handle the demanding workload. So, they passed the baton to the Shawnee Chamber of Commerce, who put a notice in the local newspaper in 1998 stating a committee needed to be formed in order for the event to survive.
Ruo jumped on board without hesitation, and the Old Shawnee Days Society was formed.
To revive the event and modernize it in 1998, the organizers brought in rides, big stage acts and other live entertainment.
"We wanted people to drive by the festival and be drawn to it," Ruo said. "I had small kids at the time and the festival was very close to my heart because it was my entire childhood. I wanted my own kids and future generations to have that same experience."
Although Old Shawnee Days is now the biggest commercial event in the city, it has maintained its small-town charm and historical core.
"It has become a real jewel for Shawnee," said Donna Sawyer, chairwoman for the 50th Anniversary Committee. "Now, as generations upon generations come out to celebrate, we're developing a whole new history with Old Shawnee Days. It's a place where you can see familiar faces or meet new people who come out from as far as Iowa or Nebraska."
Sawyer added that she's constantly in awe of the amount of volunteer manpower and hard work going on behind the scenes.
Fifty years later, she said, the effort to preserve Shawnee's history remains as important as ever.
"I am only the chair of one little committee, but I am so happy to be a part of Old Shawnee Days each year," Sawyer said. "Volunteers work so hard all year round to put this festival together. It's inspiring."
To celebrate the 50th anniversary, Old Shawnee Days is holding several special activities this year.
Organizers are bringing back buffalo chip throwing, featuring a photo booth outside the old jail building, and holding a fireworks display on Saturday night after the Loverboy concert.
There will also be free mini cupcakes, in limited quantities, on Friday evening and Saturday during the day, distributed at the old jail building.
People will also be invited to play "Guess the Year," featuring a photo on display from a bygone Old Shawnee Days.
And in a tribute to the event's 2016 theme, "A Community Reunion," the Old Shawnee Days Society is celebrating the parade's 50 years by inviting all prior Grand Marshals to join in the parade route one more time.