Driver rear ends vehicle parked on shoulder of I-435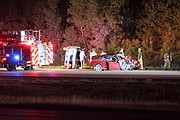 Shawnee Police are investigating after two people were injured in a rollover crash early Friday morning on Interstate 435.
The crash occurred around 12:50 a.m. in the southbound lanes just north of the 79th Street bridge.
Major Dan Tennis of the Shawnee Police Department says a white Chrysler Pacifica was parked on the shoulder of the Interstate, with hazard lights on, after running out of gas.
"A Shawnee police officer was taking the driver to the gas station to get a gas can of fuel," Tennis said. "On the way back, the accident was being dispatched."
The Chrysler Pacifica was rear-ended by a red Ford Focus. The impact of the crash knocked the Chrysler onto its side and left the Ford with heavy front end damage.
Firefighters helped one person out of the Ford Focus and into a Johnson County Med-Act ambulance for transport to an area hospital.
Radio traffic indicated one person was seriously injured, a second person was treated for minor injuries.
Officers blocked all southbound lanes until the injured people could be transported away from the scene. The southbound lanes were opened shortly after 2:30 a.m.
Tennis says the driver of the Ford Focus is under investigation for possibly driving under the influence.
---
Operation 100 News provides overnight news coverage for the Shawnee Dispatch. Follow on Twitter for real-time updates.
More like this story