Old Shawnee Days' 50th celebration draws huge crowds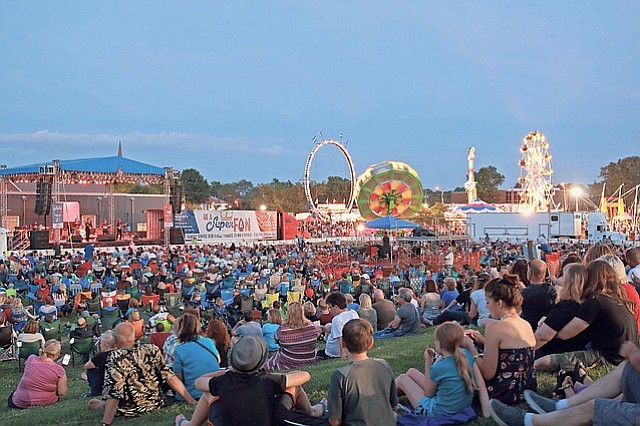 On its 50th anniversary, the Old Shawnee Days festival drew record-breaking crowds.
The city estimates there were around 115,000 people at the event over the weekend, making it one of the most successful festival weekends in Shawnee history, said Tonya Lecuru, deputy parks and recreation director.
Last year, the festival drew 85,000 people.
On Saturday night alone, there were more than 40,000 people on site, enjoying carnival rides, eating fair food, and listening to live music.
Around 12,000 of those people were at the Loverboy concert.
"Wow, it was a great weekend and it was awesome to see so many people show up to enjoy the gorgeous weather," Lecuru said. "It really shows you what Shawnee is all about. We might be a bigger, progressive town, but we still maintain a small-town feel."
The festival also sold out its vendor space, with 115 booths featuring crafts, food and services.
There were more than 100 floats in the parade this year.
To celebrate the festival's milestone, nine grand marshals from the past, dating as far back as 1981, walked in the parade. Many of them shook hands with parade revelers and stopped to say hi to old friends along the route.
"They were just as proud to represent the community now as they were when they were the grand marshal," Lecuru said. "They shared stories about their year. It was fascinating because Shawnee in '81 was a lot different than it is now. The city has grown so much in 35 years."
Old Shawnee Days Committee members, many who have moved away, also came back to take part in the festivities this year.
"It really was a family reunion," Lecuru said. "We heard some great stories from the past."
She said she would like to thank all the sponsors, vendors, attendees and volunteers who made the weekend spectacular.
"Our volunteers in particular have jobs and families and responsibilities of their own, so for them to take so much time out of their schedule is a big deal," Lecuru said. "We definitely couldn't have done anything this weekend without them."
With the weekend over, organizers are enjoying a much-needed break.
But soon, it will be time to start working on next year.
"This summer was all about looking back at the last 50 years and marveling at how the festival has grown into such a wonderful tradition," Lecuru said. "Now, it's time to look at the future and see where we're going."
Over the weekend, there were many awards given out.
The parade awards for 2016 are as followed:
Most Spirit Award – Life Mission Church
Most Creative Award – Johnson County Library Cart Wheelers
Best Kids Entry – Gateway High Steppers
Most Unique Vehicle – Fellowship Christian Magicians
Best Vehicle Group – Missouri Valley Vigilantes
Veterans Group – Korean War Vets
Grand Marshal's Award – Shawnee Mission Northwest Band
Mayor's Award – Cross Points Church
The baking contest awards are as followed:
Youth: Sydnie Calovich, red velvet cookies sandwiches, first place; Sydnie Calovich, chocolate toffee bars, second place; Christine Znidaisic, Christine's Luscious Lemon Cake, third place.
Pies: Joe Cristofani, strawberry rhubarb, first place; Sonia Tann, apple, second place; Jennifer Kane, mulberry ginger, third place.
Cakes: Bonnie Denning, Best Ever Chocolate Cake, first place; Alison Reed, carrot cake with cream cheese frosting, second place; Arlene Benhan, butterscotch bundt cake, third place
Cookies and bars: Debbie Hamm, chocolate peanut butter grahams, first place; Bryan Janouschek, Celebration 50th Anniversary brownies, second place; Jennifer Kane, ginger cookies, third place.
Baker's Choice: Nancy Vanderpool, coffee cake, first place; Sonja Tann, cherry tea ring, second place; Alison Reed, devil's food cupcakes with vanilla buttercream, third place.