Monticello Library preliminary design unveiled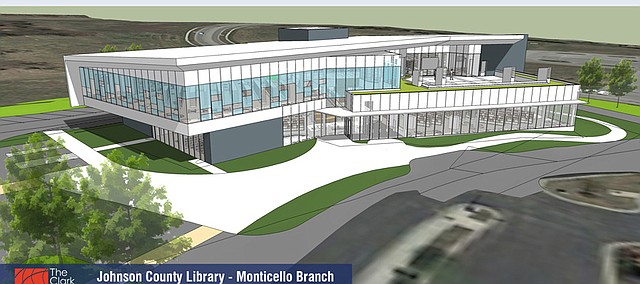 The Monticello Library likely will be two stories with long stretches of glass walls, potentially with a rooftop patio and multiple meeting rooms.
Clark Enersen Partners on Thursday presented preliminary designs for the facility, to be constructed at 22435 W. 66th St. in western Shawnee, to the Johnson County Library Board of Directors. With a large children's area, meeting space and drive-thru lane for drop off and pick up of items on hold, Amy Amos Ruo, board member, said it seemed they had taken suggestions from the public into consideration.
"From what I've seen and heard, it looks like they really hit the nail on the head," she said.
While the architects emphasized that this was the first iteration of the design and items were subject to change, there was some concern with the building's size. Set to be the second-largest location in the library system at about 30,000 square feet, the preliminary design was 33,548 square feet.
"We can't take that (extra) 3,000 square feet and expect to finish it … we need to keep it in budget," said Pam Robinson, board chair. "We've got a lot of other projects to do; we can't put all of our eggs in one basket."
Clark Enersen representatives said that with the site constraints, including storm and utility easements, it was determined that a two-story building was necessary to include all of the items needed and the items requested by a majority of the public.
That automatically added some space requirements, such as emergency stairwells and technology closets and bathrooms on both levels, explained Sean Casserley, county librarian.
"As we go through this, we may find that it shrinks down and becomes 32,000 square feet, so at this point I'm not concerned," he said of the larger-than-expected square footage.
He said that while the architects were still discussing specifics with the contractor on costs, it seemed right now that the building could be constructed within the $18.1 million budget and on time.
"There are going to be certain things we want that the budget just can't take, and we're going to have to make those decisions as we go through," he said.
Plans show the building located on the north side of the site, with an entrance on its east side and most parking on the south side.
On the first floor, patrons will enter to a central commons area with a stairwell. To the right, on the north side of the building, would be the children's area with a program room and family restroom, a new materials area and two six-person study rooms. On left would be the media/magazines area, a large meeting room and public restrooms. The staff area would be located on the building's west side.
The second floor would house adult fiction and nonfiction, a teen/young adult collection, a technology/computer/maker space area, a 12-person meeting room, two study rooms and two tech study rooms, and finally a roof patio for outdoor space.
The roof patio came about both from staff and patron requests for outdoor space, the architects explained, and a rooftop patio seems a good option to provide a controlled outdoor space. But the patio space was another concern for Robinson, saying she envisioned problems with safety and security as well as drainage.
"It's really cool, it's a great look, it's the bling on the building, but my question would be is it functional?" she said.
Casserley said those problems would be studied, explaining it was inspired by the rooftop terrace at the Kansas City, Missouri Public Library's central branch, and "how often that outdoor space is used for programming events; that kind of opened our eyes and we said, 'Wow, they love this.'"
Clark Enersen representatives said they estimated they would have the design finalized by the end of the year to get approval of construction costs, with a groundbreaking in the spring of 2017.