Surpassing 100: Sharon Lane resident celebrates 101st birthday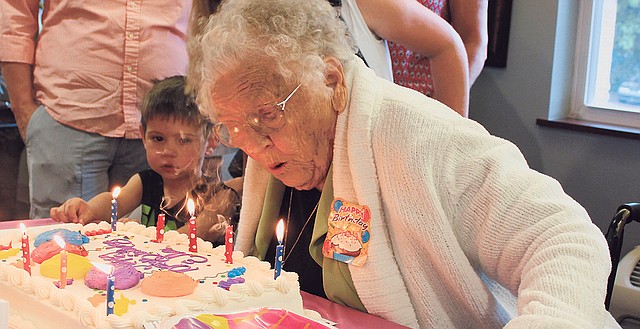 Ella Terbovich has had a lot of birthdays — even more than most.
On Monday, Terbovich's birthdays totaled 101. The Sharon Lane resident celebrated the anniversary of her birth on June 6, 1915, with cake and a gathering of family and friends. The celebrating continued into Tuesday evening, when a larger party that included a performance by Four's Company, a women's barbershop quartet, was held.
"I feel pretty good," Terbovich said on Monday about turning 101. "I didn't think I would reach this age. There were several times I didn't think I would. But here I am."
Terbovich was born in Washington state, but her family moved to Wyandotte County when she was a youth, and she lived there for most of her life. She married the late Steve Terbovich on Sept. 14, 1936, and the two had five children, Betty, Marilyn, Steve, Larry and Carolyn, all of whom are still living. Terbovich has 10 grandchildren and a number of great-grandchildren. Ella and Steve, who worked for the railroad, were married for 51 years.
Ella was a skilled seamstress, who spent her professional life in Kansas City's Garment District, sewing coats, baby clothes and other items. Work was always important to Ella — she will tell you that herself.
"I've worked hard all my life," she said in a press release distributed by Sharon Lane prior to her birthday.
So did her husband, and that sense of responsibility resonated with their kids.
"She did work extremely hard for all of us. As we were growing up, she went to work on days that we knew she was really sick, she and dad both," recalls Ella's youngest daughter, Carolyn Baldwin. "I think we, all of us kids, learned a great work ethic from them. You had to be dying to stay home from school."
Being involved in the community has always been near and dear to Ella's heart as well. She has been a member of St. George's Serbian Orthodox Church in Lenexa for more than 50 years. She is also a longtime member and past president of the Kansas City, Kan., chapter of the Fraternal Order of Eagles, where she participated in community service projects including making cancer bandages to be donated to the nonprofit agency Cancer Action.
"I did that about 10 years," she said. "I liked the work, making them."
Terbovich is also currently the oldest living member of her chapter — well, almost.
"She is next to the oldest member," said Baldwin. "There's a 102-year-old that keeps beating her out every year."
These days, Terbovich largely gets around by use of a wheelchair. But her limited mobility doesn't stop her from continuing to remain active. She plays bingo, exercises every morning, participates in arts and crafts at Sharon Lane and also attends many other social events — such as a recent carnival the nursing home hosted where Terbovich manned the kissing booth.
"She does not sit around," said Sharon Lane activities director Barbara Overmann. "Every once in awhile, she plays poker with us. And if she does, she usually wins. She's lucky at it."
Terbovich said she doesn't attribute her age to any diet or exercise regimen — on the diet point, especially, she is emphatic: "I like everything." But for others wishing to live a long life, she suggested the following: "Do everything they would like to do. Try to live, be honest in everything you do."