Shawnee FedEx employee looks back as he moves forward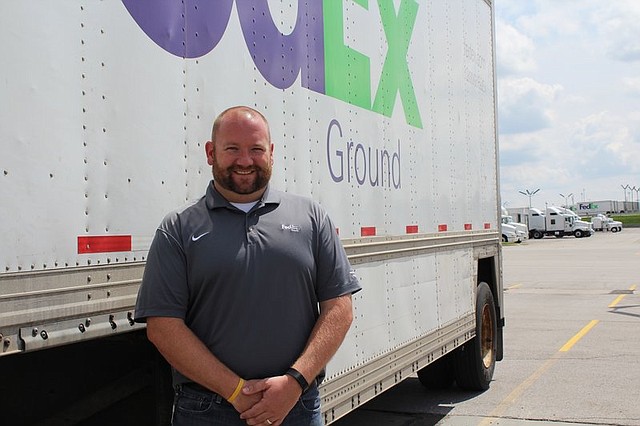 Less than a decade ago, Kevin Nichols was loading packages onto trucks from midnight until the wee hours of the morning.
Now, he's the man in charge.
As FedEx gears to hire more people, Nichols, the Senior Manager of Operations at the FedEx Ground station in Shawnee, uses himself as a prime example of how the nationally renowned business is an ideal employer for climbing up the corporate ladder.
"Other than asking my wife to marry me, the best decision I ever made was choosing to work at FedEx," he said during a recent interview in his office. "I've seen all the pieces of operation, from pickup to sorting to delivery. It's more interesting than you think to see the full life cycle of a package."
Nichols started out at the FedEx Ground station in Shawnee in 2007 as a package handler.
A newlywed and father-to-be, the then-Blue Valley Recreation employee took the part-time night job as a way to save up money for his growing family.
After six months, the Kansas University graduate became an operations manager. Two years after that, he was promoted to sort manager.
After a brief stint as a general manager in Grand Island, Neb., he accepted the senior manager position in Shawnee and moved his family to Olathe.
Nichols' hard work and leadership haven't gone unnoticed by his team.
"He has vision and ambition to succeed and the ability to inspire," said Beth Burns, an office administrator at the FedEx station in Shawnee. "He's concerned with the needs of the team, ensures a safe place of work for staff and maintains an environment of honest and open communication."
And while he's honored by the praise, Nichols insists his story is not unusual.
A high majority of FedEx administrators and managers come from the package handler ranks, he pointed out.
"We prefer to promote from within," he said. "That's a big deal for a major company. We work to help entry-level people take those steps forward. We evolve their decision-making abilities and encourage their input when it comes to operations."
One of his favorite parts about his job is helping employees make the same leaps he did.
Nichols travels all over the country, from Chicago to Seattle, mentoring new senior managers and training them on their responsibilities and how to manage operations.
"It's about working through problems and solutions and putting them in the best position possible to be successful," he said. "We can build all the big buildings we want and incorporate all the latest technology in the world, but we will always need people to be successful."
He said he feels fortunate to work at a company where hard work is recognized.
"A lot of people may think you schlep boxes forever, but that's certainly not the case," Nichols said. "It is what you make it."
Plus, every day at FedEx is different, he said.
After all, no one ships the same thing.
Some days are more unusual than others, he said, with a laugh.
He recalled one time his station had to deliver nearly 400 boxes of chocolate to an Olathe apartment complex, one directly to each tenant.
Package handlers have also found themselves handling large crates of live crickets to ship to pet stores.
The most challenging part of the job, however, is the holiday season, from mid-November to late December.
On average, the station handles 40,000 packages per day, but that rises to 45,000 during the holidays.
FedEx hires 25 to 35 percent of additional staff during that time.
And while working in a fast-paced environment isn't easy and can be a bit stressful, Nichols insists the job is worth it.
"What we're doing, it's more than moving packages, it's making sure our customers are getting their packages on time and getting them undamaged," he said. "Each package is very important to us."
Currently, FedEx is hiring in Shawnee and around the country.
To apply there, visit www.watchasort.com.
More like this story