Sister city bond strengthens as German firefighters visit Shawnee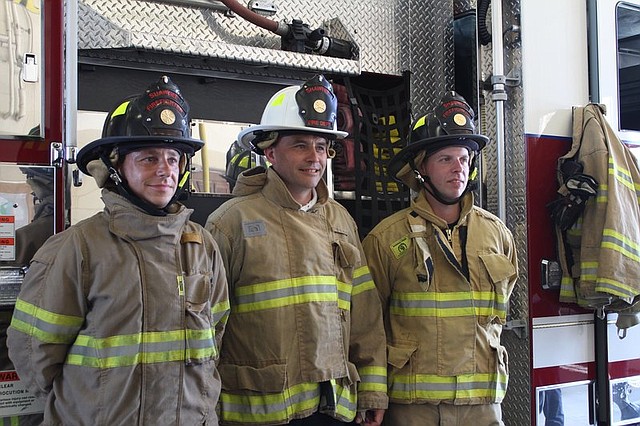 For three visiting German firefighters, Shawnee offered a wealth of surprises this month.
Gigantic portion sizes at restaurants wowed them. Fried Snickers bars at Old Shawnee Days baffled them. The width of the streets impressed them.
But the men say there's one thing about Shawnee that stuck out the most: the city's Midwestern hospitality.
Kai Hellstroem, Rene Siebeo, and Lars Peter Zander, of Erfurt, Germany, arrived to town as strangers earlier this month, but they were instantly greeted as family by the Shawnee Fire Department.
Their two-week visit marks nearly two decades of friendship between the cities' fire departments.
Shawnee adopted Erfurt as a sister city in 1993, but it wasn't until 18 years ago when the two fire departments started its exchange program.
The cities take turns each year sending three firefighters across the ocean to learn about the professional differences in fire service and embrace each other's culture.
"We are overwhelmed by the welcome of our friends here in Shawnee," said Hellstroem on Thursday, when the three men were on duty at the John B. Glaser fire station. "People in this city are open-minded and kind. We talk like friends, it's like a big family."
Siebeo nodded his head in agreement.
"You meet people and they treat you like a friend right away," he said.
The trip was a bit of a whirlwind for the European firemen.
They visited Kansas City area fire departments, toured the World War I museum, jet-skied at Lake of the Ozarks, strode in the Old Shawnee Days parade, and enjoyed a T-Bones baseball game.
Oh, and they ate copious amounts of mouthwatering barbecue, of course.
The most interesting part of the trip for them, however, was discovering how American firefighters do their job.
Although their end goal might be the same, there are small, yet significant differences between firefighting in Kansas and firefighting in Germany, said Hellstroem.
Especially since Shawnee and Erfurt are polar opposites, architecturally and physically.
Shawnee Fire Chief John Mattox offered a startling perspective.
He pointed out that when the United States was being discovered in 1492, the city of Erfurt was already more than 700 years old.
Many of the city's buildings, constructed of stone, are more than a thousand years old.
Plus, the city has many high-rises, some as tall as 18 stories.
Unlike Shawnee, one of the biggest challenges the Erfurt fire department faces is high-rise fires.
Its fire department has a special unit for high-angle rescue, which partners them with the Erfurt police department's helicopter unit.
"We use the technique to save people from a rooftop or a tall building or a rock in the forest," Hellstroem said. "I'm a bit surprised that a city the size of Shawnee does not have higher buildings. It is like a big green park, with a lot of wood in the architecture."
In turn, Shawnee firefighters have their own unique challenges.
Battalion Chief Ryan Pyle, who hosted Hellstroem and his wife at his home during the two-week visit, said the lightweight construction of buildings in the United States comes with a price.
"One of my biggest concerns is that the amount of time we have in getting our firemen out (of a fire) is getting smaller because of how fast homes burn now," he said. "In Erfurt, with buildings made of stone, they have more time."
Another big difference between the two fire departments is size.
Erfurt's population is around 200,000, while Shawnee's is around 65,000. Erfurt's fire department has two stations with a total of 200 professional firefighters and an additional 600 volunteer firefighters for the surrounding areas.
On Thursday afternoon, the three men got to experience life as Shawnee firefighters.
Donning Shawnee Fire uniforms, they went out on medical calls, climbed an aerial ladder, and conducted search training in a basement.
"The American fire trucks wouldn't even fit in the streets of our city," said Siebeo, pointing to one of Shawnee's massive red trucks in the garage.
When a group of Shawnee firefighters trickled into the fire station garage to greet their European counterparts, the men bantered back and forth like old friends.
The scene put a smile on Pyle's face.
"I'm proud of how unique this relationship between Shawnee and Erfurt has become," he said. "People here have made lifelong friendships through this program. It is a very special bond that transcends fire service."
Mattox agreed. He hopes the program goes on forever.
"Eighteen years is nothing," he said. "Hopefully when I'm 90, I'll still be reading about this in the newspaper."