All in the family: 'Drowsy Chaperone' to feature father, his two daughters, granddaughter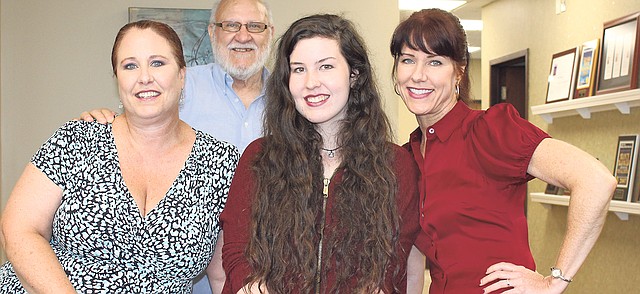 For a handful of cast members in "The Drowsy Chaperone" at Theatre in the Park, performing really is a family affair.
Theatre in the Park's production of the Tony Award-winning musical comedy, set in the height of the Jazz Age, opens Friday and runs through June 25. Its cast of 19 features performances by Forrest "Frosty" White, a 77-year-old retiree, his daughters, Stasha Case and Trudy Hurley, who lives in Shawnee, and Hurley's 16-year-old daughter, Lauryn Hurley, who is going into her junior year at Mill Valley High School.
White and his daughters and granddaughter are certainly not new to the TIIP stage. He, Case and Trudy Hurley have been frequent performers with the outdoor community theater since their first show together — "The Music Man" in 1982. Since then, they've all three worked together in at least six different productions, Hurley said, including "Pippin," "Peter Pan," and "Guys and Dolls," which was the first time Lauryn Hurley joined her mom, aunt and grandfather onstage at the young age of 4. Like her family, Lauryn has continued to perform at Theater in the Park ever since.
"I love that place," White said. "It's just a great place to get my family together."
White and his late wife, Judy White, both loved to sing and perform, and they passed on that love to their daughters. Trudy Hurley was a theater voice major at Kansas University. Both she and her sister, who in their day jobs are service-first representatives with Prosperity Advisory Group in Overland Park, have performed at theaters across the Kansas City metro area. Case has also performed professionally at such theaters as the Metropolitan Ensemble Theatre and the Unicorn Theatre, both of which are professional theaters in midtown Kansas City.
The sisters say Theatre in the Park has always been near and dear to their hearts, however.
"Just because it's where we got our start," Hurley said.
The upcoming production centers on a main character known only as "Man in Chair." In the opening act, as he settles in to listen to his favorite record "The Drowsy Chaperone," the fictitious 1920s musical comes to life in his apartment. The show-within-a-show follows the comedic tale of a glamorous showgirl on the eve of her wedding to a tycoon. Throughout the production, the couple encounters a roster of fun-loving, zany characters — the disorganized best man, a spacey hostess and her stoic butler, a muddled producer and his ditzy female sidekick (played by Case), two gangsters posing as pastry chefs, a misguided Don Juan, and a slightly intoxicated chaperone played by Trudy Hurley. White will portray the building superintendent, while Lauryn Hurley will perform in the ensemble.
"It's very touching at the end," Trudy said. "It's fun. It takes you away from your troubles, and that's what this show is all about — to take you out of yourself for awhile."
Though every summer at Theatre in the Park is like a home away from home for the White-Hurley-Case family, Trudy said this time around will be especially poignant since it is the first one without her husband, Paul Hurley, who died last fall from complications with diabetes. Though he wasn't a performer, he was always an important part of every production, she said.
"He was audience, he was purely audience. He was out there clapping every night. He would go to every show," Hurley said.
Helping her family get through, Trudy said, is their extended family at Theatre in the Park.
"It's nice to surround yourself with a supportive community when you're going through a rough time," she said. "They just surrounded us and took care of us and lifted us up and helped us out."
For the entire run of "The Drowsy Chaperone," TTIP is partnering with the Johnson County Christmas Bureau, collecting canned goods for its holiday shop that serves 3,200 families. Those who donate will receive a coupon for a free popcorn at the show.
Theatre in the Park is located in Shawnee Mission Park and is accessible via an entrance at 7710 Renner Road. Curtain times and dates will be at 8:30 p.m. Friday, Saturday, Sunday, June 22, 23, 24 and 25. Tickets are $8 for general admission, $6 for youths ages 4-10 and free for those 3 and under.
More information about Theatre in the Park is at www.theatreinthepark.org.