From recess to road work: Shawnee welcomes kid mayor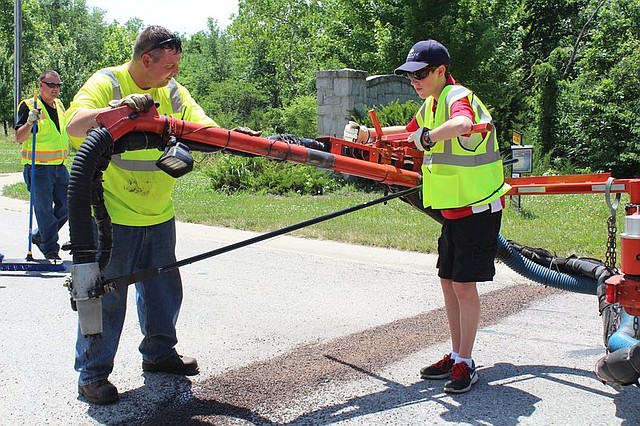 Paul Hartman spent the morning patiently listening to residents' concerns about traffic and train noise.
An hour later, as the city's new mayor, he sat in the Shawnee City Hall council chambers and passed an ordinance to increase recess in middle schools to one hour per day.
Well, a pretend ordinance, that is.
Hartman, a soon-to-be eighth-grader at St. Joseph Catholic School, is Shawnee's first Mayor for a Day, and on Thursday, he received a firsthand glimpse into the job.
"Today was more interesting than I thought it would be," said Hartman, with a smile. "It was cool to sit in the mayor's seat. It's more work than I expected."
In addition to passing his ordinance, Hartman also bestowed a Shawnee baseball cap to Robbie Marts, an autistic Shawnee resident who holds a key to the city.
Hartman also took a tour of city hall, reviewed a map of underground storm drains in the city, paid close attention to how the city is zoned, and enjoyed lunch with a group of Shawnee firefighters.
Perhaps the most interesting part of the day, however, was fixing Shawnee's streets.
Literally.
Donning a reflective yellow safety vest, the 13-year-old helped city street workers blade patch a small portion of a residential road by filling cracks with an oil and gravel mixture to prevent water from seeping underneath.
"It's hot out here, and it's hard work," he said, wiping sweat from his brow.
His hard work did not go unappreciated by the public works employees who delighted in showing him how to fill cracks and potholes.
"He did a good job, he caught on quick," said Brian Andrews, a maintenance worker.
He added it was the first time a student had helped them out on the job.
While blade patching might not be the mayor's typical duty, Mayor Michelle Distler insists the activity is an important lesson.
"After I became elected, I spent time with each department of the city, which included public works," she said. "I tagged along, cleaning storm drains and riding the street sweeper. For 10 years on the city council, everything had only come to me in the form of memos. To actually be exposed to the heat and the chiggers gave me a whole new appreciation for what our city employees go through."
That sentiment is exactly why Distler created the Mayor for a Day essay contest earlier this year. Seventh-grade curriculum in Kansas includes local government. But it's one thing to read about the subject in a textbook, and quite another to actually see it in person, she insisted.
Distler started the annual program as a way to get youth more engaged in city government.
It's the same reason she created the guest council member program, which invites students in grades three through seven to sit on the City Council for a meeting.
This year, St. Joseph's was the only school to participate in the Mayor for a Day contest, turning in 31 entries, but Distler hopes next year that will change.
For a small start, the contest churned out quite a gem this year, she said.
Hartman impressed city officials with his winning essay for the topic "how to get more people engaged with their local government."
He suggested open houses at places such as the police department, fire department and city hall. He also said the city should publicize its cellphone app and organize park cleanup days.
Hartman said his ideas came pretty naturally, since his dad is a Shawnee firefighter.
When he won the contest, his parents were stunned.
"They didn't even know I entered it," he said, with a laugh. "They were pretty excited."
City Manager Carol Gonzales thinks the Mayor for a Day program is a wonderful addition to the city. It's important for people of all ages to pay attention to city government, she said.
"It affects people more than any other form of government," she said. "When you flush your toilet or drive down the street, those are run locally. You don't have to be an expert, but to understand what's going on is very important."
Residents who sat down for coffee with Hartman and Distler during the mayor's Third Thursday event at Shawnee Civic Center last week agreed.
Shawnee resident Bill Brinker got a kick out of watching Hartman head the public forum with the mayor.
"He was very professional and paid attention to what was going on, which was nice," Brinker said. "I think this program is a great idea to show kids how the city functions."
The Mayor for a Day contest is just one more way the mayor has made the city more transparent, he added.
"Mayor Distler's accessibility and willingness to give residents answers — even if it's not what you want to hear — is admirable," Brinker said. "With such an involved mayor, you feel more connected to what's going on."