Schneider's time to shine as
SM

North football season approaches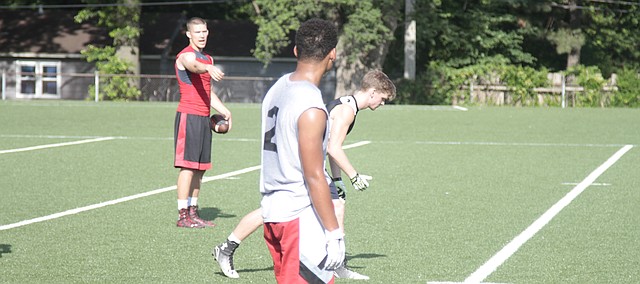 Overland Park — As a three-sport athlete, Shawnee Mission North senior-to-be Will Schneider has embraced all of the challenges that he has faced — whether it be on the football field, basketball court or baseball diamond.
Schneider was a starter on SM North's Class 6A state championship boys basketball team, and he expects to play a bigger role on next year's squad, but not before giving his full focus to leading the Indians' football team this fall.
The SM North quarterback has had a busy summer thus far, which started with attending the University of Missouri's prospect camp with Indians lineman Danny Presler during the first weekend of June.
"That was my first combine for this summer, and it was a just a good one to get back into and everything. Obviously it's Missouri, so it's Division I SEC ball, so I got to see a lot of competition that I'll have to go against this year and kids that I know I need to work hard to get better than," Schneider said. "I found out where I was ranking wise around them. I was pretty happy overall with the camp."
Schneider and Presler were joined by SM North running back Marcos Garcia at the Northwest Missouri State football camp a few days later. Getting on the same page with key pieces with other key pieces of the offense was one of the biggest takeaways for Schneider from each camp.
"It definitely helps when you've good a friend coming with you or just another teammate that you know," Schneider said. "If you can bring a receiver that you know you can throw to and you know you have timing with, it helps a lot at the camp because it's someone that you can rely on a lot."
Along with getting in sync with Garcia and Presler at the Northwest Missouri State camp, Schneider also had one of his best 40-yard dash times at 4.89 seconds. The 40-yard dash time is something that Schneider knows will have to drop as he goes further into the college recruiting process, but he's confident that he'll continue getting faster.
The SM North play caller's fastest 40 time came at the U.S. Army National Combine on Jan. 8 in San Antonio. Schneider posted a time of 4.80 seconds and enjoyed competing against some of the best prep prospects in the nation at the pro-style combine.
"That was an exciting one just because of how they set it up and everything. It was set up just like an NFL combine," Schneider said. "You really got to compete to the fullest extent. Everything was laser-timed.
"Your 40 time was laser-timed, your 5-10-5 (shuttle drill) was laser-timed and you just had to be prepared physically and mentally that you were going to have to run a good time. I felt really good down at that camp, and then we did the throwing portion and you just see some crazy athletes down there and phenomenal receivers."
The timing of that combine came right when the SM North basketball team was returning to action from winter break. Schneider admitted that he probably learned more from the Indians' state hoops title run than he has at any particular football combine. The SM North forward started alongside University of Miami (Ohio) signee Marcus Weathers in the post, and began to adapt a winning mindset as the Indians rolled through Sunflower League play and the sub-state and state tournaments.
"I just love that feeling of winning and going out there every night expecting to win. That was just a good mentality to have," Schneider said. "We used to have that North atmosphere of, 'Oh, we're North. We're not going to win this game.' We changed that in basketball season with a winning attitude."
Schneider sensed that the boys basketball state championship not only changed the expectation for his second favorite sport, but for SM North athletics in general, and his gut feeling was right.
The SM North boys track and field team closed out the spring season with a Class 6A state title in May — just a year removed from not scoring any points in 2015 down in Wichita.
"That's a good attitude just especially with transferring over. We won state in basketball, and then we won state in track," Schneider said. "That's awesome because all these kids either ran track or played basketball, so they're state champions in something. Now they're going to bring that winning attitude over to football season, so that's a good thing."
After throwing the javelin in the spring of his freshman year, Schneider debated whether to rejoin the Indians track and field team or to play baseball. Schneider elected to play baseball to further enhance his arm strength for football while playing left field for first-year coach Jason Day. Schneider said that the decision to play baseball last spring paid off since his arm has felt strong at the football combines and camps that he has attended this summer.
"I wanted to play baseball for him, and he did give me all of the opportunities, so I was pretty happy about that throwing wise since it kept my arm in shape — especially for combines and stuff," Schneider said. "I feel pretty good. I probably throw 150 balls every day, so to keep my arm in shape, that was good for me."
Schneider's added arm strength has not gone unnoticed by his football teammates either. Backup quarterback Spencer Dubois is Schneider's workout partner, and he admires the work ethic that his teammate shows in the weight room.
"It's a good challenge. We lift about the same weight," Dubois said. "Some may be a little heavier between us, but it's good. We're always encouraging each other and getting good work in. We're never cutting it short."
Schneider's summer has been jam-packed with football between the camps at Missouri, Northwest Missouri State and another team camp at Pitt State with more of his SM North teammates, and when he hasn't been working out, he's been scouting his options of where to play at on the next level.
The SM North quarterback visited Northern Illinois over the weekend, and it is one of the schools that Schneider is strongly considering as a college choice.
"Missouri Valley Conference is really where I'm looking at," Schneider said. "Northern Iowa, Northern Illinois and Missouri State are the three schools that I really like right now."
Schneider realizes that being a collegiate athlete will require even more dedication on the gridiron, and in the classroom as well. The competitiveness Schneider shows in sports is also put on display with his studies, as he has a cumulative grade point average of 3.5-plus. Schneider like to challenge himself by taking at least on advanced placement class each year, and last year was AP English.
"I try to take my grades as seriously as possible. I think I have between a 3.5 and 3.6 right now, so I prioritize grade a lot," Schneider said. "My mom was an English teacher, and now she's a TL (teacher librarian) in the KCK District, so she's really into school. She makes me stay on track."
With getting to work out side-by-side with Schneider each day, Dubois has noticed that Schneider's intelligence sets him apart on the football field as well.
"He's smart. He know what he's doing," Dubois said. "Other quarterbacks, they'll just throw when they see they have an open guy, but Will knows what he's doing. He studies and watches film a lot."
Schneider has been named the captain of the SM North football team, which will open its season on Friday, Sept. 2 against SM South. The leadership from Schneider has made it easier for his younger receivers like Nathan McCoy to learn the ropes of the offense this summer.
"With Will, he's more of a leader and more of a role model. When I'm behind him, I know he's going to lead us through," McCoy said. "It's good that I have a chip on my shoulder, and that I have a good quarterback that can throw it to me."