Shawnee motorcycle collector's garage 'filled with memories'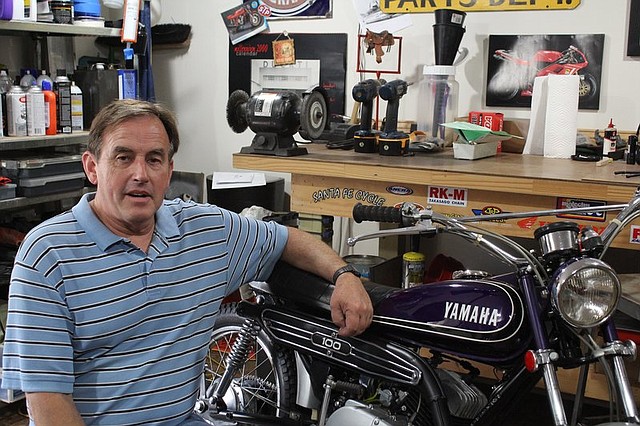 When Kenny Howard purchased his first classic motorcycle at a small shop in Kansas City, he felt that same rush he did as a kid.
The burgundy '68 Triumph Bonneville sang to him. The roar of the engine jolted him back into his 1960s childhood in Las Vegas, when the cool guys whooshed down his residential street on hot rods, leaving Howard wistful for a taste of that fast-paced lifestyle.
When he brought that Bonnie home in the early 1990s, he considered it his treasure.
Twenty-five years later, Howard now owns 19 classic motorcycles.
"I thought I would just own one," he said, with a laugh. "I don't know what happened next. They just started trickling in."
His impressive collection has made him a prominent face in the Kansas City area vintage motorcycle scene.
The Shawnee resident is president of the Heart of America Motorcycle Enthusiasts organization, which meets in Mission once a month, and he's won awards at numerous car shows over the past couple decades.
This weekend, he will be featuring four of his vintage beauties at the 10th annual Art of the Car Concours, which will be held at the Kansas City Art Institute campus, just east of the Plaza on Sunday.
The event will showcase more than 200 historically significant vehicles from collectors who hail from New Jersey to California.
Several of those collectors are from Shawnee.
Organizers are anticipating that the $1 million fundraising mark will be surpassed this weekend.
Choosing which motorcycles he would feature in the show was no easy task, said Howard.
After all, each one sitting in his garage holds a special story or fond memory.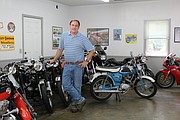 The 1966 powder blue Yamaha he will feature, for instance, reminds him of the first bike he ever bought as a teenager.
In Las Vegas, state laws at the time allowed 14-year-olds to ride a small displacement bicycle.
"My mom, bless her heart, would let me keep it in the kitchen so it would be safe," Howard said. "We lived in a neighborhood where a lot of guys were into motorcycles."
One of those guys was Ron, a 20-something-year-old neighbor, who Howard hero-worshipped.
"He's the drug dealer who got me hooked on motorcycles," Howard joked. "He would work on a bike at night in his garage and I would help him. I caught the bug."
When Howard and his family moved to Shawnee, the two lost touch.
A couple years ago, however, his cousin tracked Ron down and reconnected the two.
Ron, a retired police officer living in Colorado, came down to visit his old helper and the two had a special moment as Howard showed him his massive motorcycle collection.
"He got to come to my home and see what he started," Howard said, emotionally. "We were just two guys standing in a garage, crying. It had been 40 years since we saw each other."
The two still keep in contact.
Howard, who works in construction, is also going to showcase his oldest ride, a '47 black Veloset, which is in its original state, not restored.
"It's a survivor," he said. "It's not ugly, but it's a little raw. It's unpolished, so I hope people accept it."
His collection spans nearly 70 decades.
Some of his motorcycles simply needed cosmetics; others required an entire frame-up restoration.
Howard works on them in a special workspace in his basement. He also does motorcycle restoration work for friends.
And he has quite a few friends.
The allegiance among antique and classic motorcycle collectors is strong, he insisted.
"You can go to a sale in Vegas and feel like you're back in Kansas City because all your friends are there," he said. "You can drive all over the country and see your buddies."
Now that he's 60, Howard has slowed down adding to his collection.
He's also more into showing off his collection than riding these days, but he'll hop on a bike to spin around the neighborhood occasionally or meet up with his buddies for a scenic drive.
"On a motorcycle, your attention has to be dead-on," he said. "You have to really focus on what's going on around you and be cautious of road conditions."
One thing that will never change for Howard as he gets older, however, is his passion.
"All of this," he said, waving his arms around his garage, "is what brings me joy. I don't have a garage filled with motorcycles. I have a garage filled with memories."
The Art of the Car Concours show is being held from 10 a.m. to 4 p.m. Sunday. Admission is $20 at the gate or online in advance. Children 16 and younger get in free. Proceeds will benefit the KCAI scholarship fund.
For more information or to purchase tickets, visit www.artofthecarconcours.com.