Teacher Feature: Taylor Burson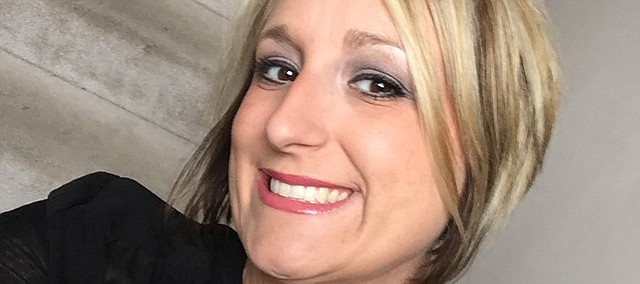 Taylor Burson, fourth grade teacher at Horizon Elementary in western Shawnee, is the subject of this week's Teacher Feature.
Age: 36
Educational degrees: Bachelors in elementary education, Kansas State University, and masters in education with emphasis in special education, University of Kansas
Teaching for: 14 years
Schools taught at: Piper Elementary, Belmont Elementary and Horizon Elementary
Why did you want to be a teacher?
When I was in elementary school, my parents bought a large chalkboard and a couple of old student desks for my playroom. I remember "teaching school" by mimicking my most influential teachers. I have always loved being around children. While in high school, I worked at a daycare center and taught religious education classes to elementary aged children. I also had numerous babysitting jobs in my neighborhood. Watching children learn and understand the wonders of the world is an amazing thing! From childhood, I knew I was destined to be a teacher. Throughout my life many people, including former teachers as well as my family members and friends, have enriched my life with positive influence. From these experiences, my love for teaching blossomed. While in college I discovered my passion for working with children who learn differently than most. I became determined to help influence students with disabilities to be successful in the general education setting and to teach all students to be accepting of others.
What are your proudest accomplishments as a teacher?
My proudest accomplishment as a teacher was being name Horizon's Teacher of Excellence for the 2015-2016 school year. I also feel proud when a student has an "aha" moment, when a former student stops by to say hello, and when I get an email or note from a parent thanking me for teaching their child. In my classroom, we spend a lot of time talking about expected and unexpected behaviors as well as how those types of behaviors make others feel. I am proud when my students are kind to one another and show acceptance of everyone they encounter.
What advice would you give a student considering teaching as a career?
Accept that change will happen all of the time for your entire career. You have to learn to embrace your circumstances and make the best of all situations. In looking for a job, find a team and staff that you love. My fourth grade team is like family to me and I truly look forward to going to work each day.
Who has been your biggest inspiration?
My biggest inspiration is my school staff, my fourth grade team, and my classroom team of students and parents. We all work hard to motivate, encourage, support, and influence one another while working toward the common goal of student success. My aunt, Shawn McWhirt, became a teacher when I was in high school. I observed her in action many times over the years teaching with so much enthusiasm and passion. She inspired me to do the same and we currently both teach in USD 232. Finally, my family gives me a lot of inspiration by always encouraging and supporting me.
What is a fun or unique project or lesson you have had in class recently?
During second quarter, we hold a primary campaign where five or six animals run for class president and then the top two candidates proceed to final election. Students participate on committees where they run a campaign, present a persuasive speech, and create posters to promote their candidates. Students write a paragraph explaining which candidate they plan to vote for and provide reasons why. On Election Day, students privately vote for their choice of Animal President. The class earns whatever the winning president promises to change or add to the classroom. For example last year, the animal president promised two movie parties with pop, candy, and popcorn. So I worked with the campaign committee to get those parties scheduled during the rest of the school year.
What is one way you use technology in the classroom?
Students learn about the Santa Fe Trail and the Oregon Trail by reading various first and second hand accounts of that time period. We use online resources as well as curriculum guides. We discuss in length the reason people traveled on the two trails as well as how challenging trail travel was during the time. As a final project, students design and construct board games consisting of questions specific to trail travel, hardships, and landforms that pioneers encountered. Students have the option to design their boards using technology. They also have to use technical writing to create directions on how to play their board games. Students type directions on word documents. We also collaborate with our technology teacher so that students can complete research and typing in that class as needed. Students play each other's games and then evaluate the information presented by explaining how the game reinforced information presented about the trails.
What makes your school great/what is a school tradition you enjoy?
Horizon Elementary School is unlike any elementary school I have ever walked into. As soon as you enter the doors, you feel love, warmth, and dedication. Our staff is a family; in fact our staff meetings are called family meetings. Every teacher in the building is constantly giving every bit of their hearts and souls to make a difference in the lives of children. Even though I won the Teacher of Excellence award this year, I only represent an entire building full of amazing educators with hearts of gold who inspire me every day to strive to do better than the day before.

More like this story