CPR

course takes guesswork out of life-saving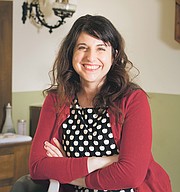 A number of years ago, a good friend of mine had a seizure right in front of me.
It was terrifying, of course, and I had no idea what to do. After frantically running around for several minutes trying to find what I assumed in my panicked mind would be a device conveniently labeled "Stop Seizure Now," I finally had the good sense to dial 9-1-1. The ambulance came, and my friend was revived. Still, I've always wondered: Could I have done more?
In part to answer that question and in part just because I've always wanted to, I recently took my employer, The World Company, up on its annual offer of a free CPR, first-aid and AED certification course through the American Red Cross. I was very game and excited to take the course, but when I walked in just shortly before the appointed 9 a.m. time and saw all the dummies lying on the floor, reality hit and I began to get a bit nervous. After all, this is me we're talking about — a walking hypochondriac who is afraid of nearly everything, including bees and death and plummeting to my death and, well, you get the picture. Am I really capable of getting another person through a life-threatening emergency?
Well, as I learned through the nearly six-hour course, anyone can play an important role in saving someone's life with the right training and know-how. And that, of course, is what a CPR/first-aid course is designed to provide. But the class I took was also taught in such a way as to largely take the intimidation factor out of the equation. As longtime instructor Dee Smith said, for her, teaching the course is "not really work — it's coming out and having fun." She said her goal was to make folks comfortable with providing CPR or first-aid whenever it is needed, and for me, that was a big help in calming my nerves and putting me in the mindset of, "OK, I can do this."
The hands-on course we were taught through the use of videos, Smith's own experience and practice on dummies and our fellow classmates included CPR and first-aid for everything from cardiac arrest to choking, from seizures to handling a severe burn or cut. And while there's quite a bit more to CPR than I had originally pictured in my mind and from the movies I have seen, the techniques are actually not that hard. Smith said the material was just updated in 2015, in fact.
"We've really simplified it for the lay folks," she said.
Of course, a major focus of the class was how to provide CPR to someone who has gone into cardiac arrest. Some courses these days are teaching just hands-only CPR, and according to the American Heart Association, mouth-to-mouth breaths are no longer essential to reviving someone in cardiac arrest. Uninterrupted chest compressions at 100 a minute, in combination with an AED if it is available, are just as effective.
But Smith went over everything. Using the dummies and the practice defibrillators (known as AEDs), we went through the steps: 30 chest compressions, two mouth-to-mouth breaths (using a barrier) and then a jolt from an AED if one is available. Then you continue this pattern until there is a sign of the person gaining consciousness or until you yourself become exhausted, which can happen pretty quickly. The chest compressions themselves are quite a workout, I found, with as hard as you have to push and as fast as you have to perform each compression. If there is someone else on hand, you can alternate roles, which is what we practiced, performing CPR on the dummies solo and then in teams.
It was quite a lot to take in in one day, and I would like to continue learning more. But I am now officially certified to perform CPR and first-aid for the next two years, according to the digital certificate I received in my inbox the following day. And that feels pretty cool.
Opportunities for you to learn more about CPR and first-aid are available right here in Shawnee. On July 13 and Sept. 14, the Shawnee Fire Department is partnering with the Shawnee Parks and Recreation Department to offer free Johnson County Heartsafe hands-only CPR courses. More information can be found at www.recreateshawnee.org. And the Shawnee Fire Department also lists on its website a course to be held July 16 at Fire Station No. 71, 6501 Quivira Road. Sign-up is available at http://bit.ly/28T28m7.
All kinds of first-aid kits and supplies can be purchased through the Red Cross store at www.redcrossstore.org. And there are now free apps, through the Apple App Store or Google Play, that offer information and guidance on first-aid situations for both humans and pets. Visit www.redcross.org/get-help/prepare-for-emergencies/mobile-apps for more information about available apps.