Digging in: Shawnee student participates in archeological field study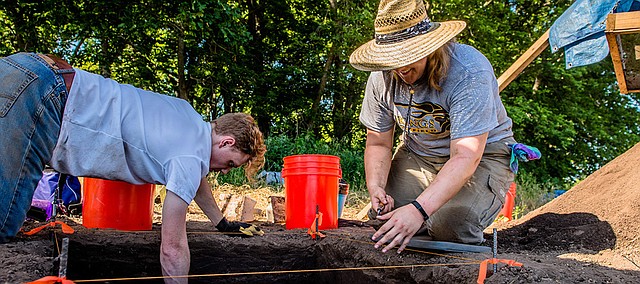 Chase Oswald first dabbled in digging through history under water — for instance, exploring the wreckage of a World War II-era Nazi oil tanker near Aruba.
"I've always kind of been interested in archeology, and back in high school, I started scuba diving shipwrecks with my family, and that's how I got really into it," Oswald said.
Now, the 2014 Mill Valley graduate is getting some experience with terrestrial archeology as one of 12 Kansas State University students spending this month excavating sites along Wildcat Creek near Manhattan as part of the Kansas Archaeological Field School.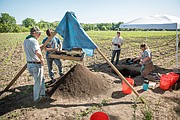 Working with professors and school directors Brad Logan and Lauren Ritterbush, the students are trying to determine what life may have been like in the Manhattan area before the Americas were officially discovered.
Oswald said he originally had hoped to focus on his love of marine archeology by attending a college on the southern coasts, but he decided to make use of in-state tuition first and later get a master's in marine archeology, probably from a college in Florida.
So, now an anthropology major with an archeology focus at K-State, he got involved with the field school because he has taken several classes with Ritterbush, who also has served as his academic advisor. Oswald said he will need terrestrial archeology field training to go on to work on big sites as a field technician, so the field study was a good fit.
Oswald has always been interested in how people lived in the past and how they came together to form societies, he said, so archeology has proven to be a good fit.
"Not only does it give me the thrill of finding information and putting pieces of the puzzle together, it also gets me out of that typical, sitting behind a desk all day working at a computer kind of job," he said. "That's something I have no interest in doing. Not only do I enjoy the work, but it's something where I feel like I'm helping accumulate knowledge for humanity."
The field school began in 1968 as a joint effort of Kansas State University and the University of Kansas and since 2004 has been a biennial course, Archaeological Field Methods, offered through K-State.
This is the second course investigating a series of ancestral Native American sites along Wildcat Creek. As a result of Logan's and Ritterbush's work with the 2014 field school, one site has been listed on the National Register of Historic Places.
Oswald said he was surprised at how quickly he and other students started finding items such as pottery sherds, knives, projectile points and stone fragments created by making tools.
"It seems like every day we find a little bit more," he said. "Some days are more exciting than others, but it seems like there's always something … some more diagnostic than others — even the flakes of rock are important for giving us information."
Logan stated in a university news release that the items students have found at one site, such as spear, dart and arrow points, are evidence of occupation by Native Americans of the Central Plains tradition, a culture dated to 1,000 to 1,400 A.D.
During the latter portion of the field school, which ends Friday, the team is practicing archaeological survey, mapping and excavation of other ancient Native American sites.
"In addition to receiving detailed instruction in the methods of field archaeology, the students learn ancient techniques that include flint knapping, throwing darts with an atlatl and use of slings," Ritterbush said in the university release. "They are contributing to a long-range research endeavor that addresses prehistoric human use of the Wildcat Creek watershed and other areas of Manhattan over the past 13,000 years."
While Oswald's main interest still is in marine archeology, he says, his classes and the field study have sparked his interest in terrestrial archeology, particularly in southern regions of America.