Improvements made at Emporia State camp help
SMN

girls hoops in summer league games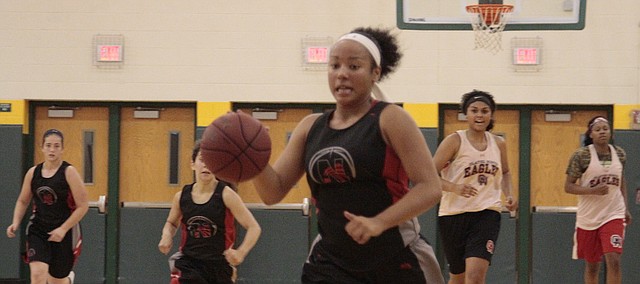 Overland Park — Shawnee Mission North girls basketball coach Brian McIntosh got to take his team to his old stomping grounds last week for the Emporia State girls basketball team camp, and he felt like it was just what the Indians needed.
A number of the noticeable improvements that the Indians made were on defense, and that was evident in SM North's summer league games against St. Teresa's Academy and Olathe North Monday at SM South.
While the Indians fell to St. Teresa's, 34-27, and to Olathe North, 30-28, but the contests were much closer than their games two weeks ago against Blue Valley North and BV Northwest.
"I think we're playing better defensively. When you throw a brand new group together and you play defense, all it takes is one person not to do what they're supposed to do, and you get scored on," McIntosh said. "Our goal is to be playing well in February and March. In summertime, it's all about trying to build some chemistry and togetherness, and you want to see them compete."
The Indians had nine steals against St. Teresa's in their first game of the night — including takeaways on back-to-back possessions early in the first half from freshman LeLe Bruce and junior Hannah Redick.
Redick could tell a big difference in the Indians' help and on-ball defense, and thought that what they learned at the Emporia State camp was a big reason for it.
"I felt like at the team camp, we faced a lot of teams that helped us improve our defense a lot," Redick said.
Bruce and Redick were the Indians' top two scorers in each game Monday night, and McIntosh expects them to be the top two offensive threats next season as well.
Redick, who thrives as a long-range shooter, has felt more comfortable offensively playing with Bruce this summer since the freshman-to-be has the ability to take it to the rack or shoot from the outside.
"I think she's going to be big because she can drive, she can shoot, she can rebound," Redick said. "She can do it all, really."
Although Redick and Bruce paced the Indians on Monday night, McIntosh has also been encouraged by the development of his team as a whole. The former Emporia State assistant coach has stressed offensive rebounds and charges more than points and other statistics that would normally stick out on the stat sheet to his young team, and the Indians have started to buy in to what McIntosh is asking of them.
"Katie (Stiers) competes, and she got a bunch of offensive rebounds tonight, and that's something that we emphasize. When you have some players like LeLe and Hannah that can score the ball, they're going to get a lot of attention, and it's going to leave you to go get some offensive rebounds, and you've got to be able to do that," McIntosh said. "Then taking charges, Sarah Boyce at the Emporia State team camp, I think we played five games and she had to have had eight to 10 charges, so those are things that we really want to emphasize and reward because they are toughness things."
With the Indians graduating seven seniors from last season and having Redick as the only player who logged semi-regular minutes off the bench, the least of McIntosh's worries is the Indians' record in the SM South summer league. The second-year SM North coach is looking for individual and collective team improvement, and he thought that taking a break from the league last week and going to the ESU camp really benefited his squad.
"You don't have distractions of people or of anybody, and it's just you and your teammates. Getting away and enabling yourselves to grow together, I think that was the No. 1 thing that we took away from it," McIntosh said. "We just have been competing. We've needed a couple of other people to step up and make some plays, and I thought they did that."
More like this story