One person killed in I-435 crash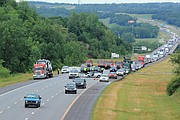 One person was killed when a vehicle rear-ended a tractor trailer that was parked on the shoulder of Interstate 435 Tuesday morning.
Kansas Highway Patrol Troopers are investigating the crash which occurred around 9:30 a.m. in the southbound lanes of the interstate just south of Holliday Drive.
Troopers say Bernice Scheidt, 88, of Bonner Springs was killed when her 2013 Hyundai Accent crashed into a parked tractor trailer.
The highway patrol's report states that Scheidt was traveling southbound in the center lane of the interstate when, for unknown reasons, she ran off the right side of the road and struck the back of a parked tractor trailer. Troopers say the truck was legally parked on the shoulder of the Interstate.
No one was inside the tractor trailer at the time of the crash and no other injuries were reported.
Kansas Department of Transportation trucks assisted with traffic control as the crash was investigated. Southbound traffic was backed up to Kansas Highway 32 for a time. All southbound lanes reopened shortly after 12:30 Tuesday afternoon.
---
Operation 100 News provides overnight news coverage for the Shawnee Dispatch. Follow on Twitter for real-time updates.