Retired government security specialist now helps Shawnee stay safe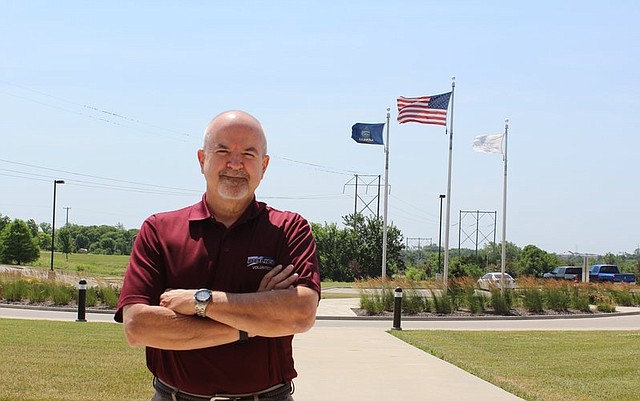 With its small town charm and friendly neighbors, Shawnee is known to many for being a happy and safe place to live.
But even peaceful Midwestern cities aren't immune to crime.
From March 1 through June 21, there were 84 auto burglaries in Shawnee, where items were stolen directly from inside a vehicle.
Only 16 of those cars were broken into. The vast majority were not locked or did not show any signs of forced entry.
And last fall, a series of home burglaries occurred in Shawnee when garage doors were left open.
To crack down on senseless crime, and help residents become a little more street savvy, the Shawnee Police Department is offering free residential security assessments.
And they chose a top-notch candidate to do the job.
John Bowman, of Shawnee, spent more than 20 years on active duty in the Navy as an intelligence specialist. He was also a security specialist for the Department of the Defense, overseeing all security related to sensitive government projects.
Now retired, and as a certified protection professional, he volunteers his time helping residents diminish their chances of being victims of crimes.
He emphasizes that the service is about education, not about making a home "burglar-proof."
"People tend to trust people here, which is fine, but crime is on the uprise," Bowman said. "Sure, if a bad guy wants to break into your house, all he needs is a brick to get through the window. But there are many things you can do to make it difficult for him. It's about creating a scene and delaying that entry."
During the assessment, Bowman sits down with the homeowner and family members for an hour or two and goes through a list of checkpoints with them. He also walks around the property, offers tips, and identifies security risks.
Some of his common-sense suggestions include:
Removing all items from your car and putting them in your trunk. "People may see something, anything, in your car and they will break your window just to look at it."
Locking your front door. "It's something so simple that can deter a break-in."
Posting vacation photos to Facebook and Instagram after returning home from the trip. "You really have no idea who is paying attention to your profile while you're away."
"It's not about being paranoid, it's about watching out for yourself," Bowman added. "It's important to think about what you're doing and pay attention to what's going on around you."
So far, not many residents have taken advantage of the free security assessments, which surprises Bowman.
To drum up more interest, he sends out letters to residents who file police reports about home break-ins and attempted home break-ins.
He enjoys conducting the assessments because he's passionate about home security and he loves meeting new people.
Plus, he's grown to love his new hometown.
Bowman and his wife moved to Shawnee in 2005, from the Washington, D.C., area, after they both retired from the Department of Defense.
They chose Kansas because his wife has family in the state, and they chose the Kansas City area because it offered big-city amenities with a relaxed environment.
"We're right in the middle of the U.S. now, so traveling is much easier," he said. "You can drive anywhere."
After their fast-paced government lifestyles, retirement in Kansas is a welcome change.
While an intelligence specialist in the Navy, Bowman often traveled to exotic locations, such as Guam, Tokyo and Singapore.
But after nearly a decade living in the East, he wanted a more stable life. So, he became a security specialist for the Department of Defense, managing special programs and research projects, and overseeing intelligence collection.
"It was really cool, fun and fascinating," he said. "When I retired, I missed being on the inside."
When he moved to Kansas, he envisioned himself spending his days outdoors, messing around.
But he quickly realized his slow-paced lifestyle was boring.
"When you retire, you can't just fish and golf all day," Bowman said. "I love my wife dearly, but we were together 24 hours of each day with nothing to do. We realized we just really missed having other people around us."
To fix the dilemma, he snagged a job as a physical security manager for the Sprint campus, which he did for seven years.
In 2014, he retired for a third time, so he could volunteer a few days a week and enjoy a long weekend.
In addition to conducting residential security assessments for the Shawnee Police Department, Bowman also volunteers in admissions and security at Shawnee Mission Medical Center, and tutors for the Shawnee Mission School District, helping third grade students with reading and math.
"If you wake up in the morning with a purpose and have some responsibility, you keep yourself sane," he said.
His work with the Shawnee Police is much-appreciated, said Greg Collins, a research and analysis manager for the department.
The assessments used to be conducted by police officers, but with the recent lack of manpower, the department was struggling to keep up with them.
Bowman showed up on their doorstep at perfect timing.
"People feel safe in Shawnee, so they don't imagine anything could happen to them," Collins said. "And Shawnee is a safe town, but like every town, it does have crime. These assessments are about focusing on simple details that can make a difference. It's about modifying habits and routines so residents can protect themselves better."
For more information or to schedule a free security assessment, call 913-742-6880.