Cougars clinch third straight state tournament bid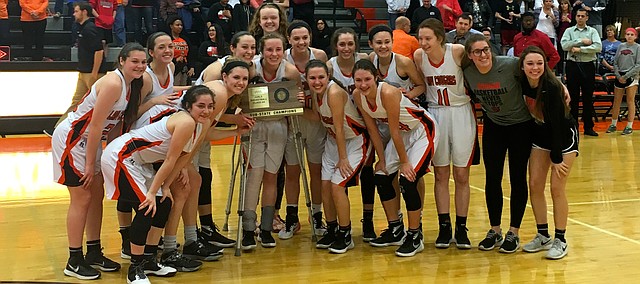 When Shawnee Mission Northwest senior Shelbie McLain went down with a right knee injury late in the first quarter of the Cougars' sub-state final game against Olathe Northwest, Friday, the gym went silent.
McLain was helped off the court and to the training room with the Cougars leading, 9-5. It took a few minutes for the Cougars to regroup after they realized that one of their senior leaders might not return to action, but they had McLain's back.
McLain's was unable to play for the remainder of the game, but returned to the court afterward to proudly hold the sub-state championship plaque with her teammates gathering around her after the Cougars' 58-39 victory over the Ravens.
"When something like that happens, it kind of makes it personal," Brenni Rose said of McLain's injury. "You just want it that much more, and you want it for that person now."
McLain – who did not know the extent of her injury following the game – was in the training room during the Cougars' 15-2 second-quarter surge that helped SM Northwest pull away, but she fully expected her teammates to have her back.
"As they should, as they should," McLain said while mustering up a smile despite her pain. "I'm really proud of them. I didn't get to see it, but I'm glad they were able to get it done."
Brenni and Emmalee Rose scored five points apiece during the 15-2 spurt, and both finished in double figures. Brenni Rose led the Cougars with 24 points, 11 rebounds and five assists. The 6-foot senior was held to two points in the first quarter, but continued to attack the rim in the second. She scored 10 points in the second quarter, and helped get her teammates going offensively, too.
"We were kind of playing to their pace. We were letting them dictate how we played, and that's not what we do," Brenni Rose said. "We got into our rhythm with the drives and kick-outs, and started to knock down shots. And we were getting stops."
Those stops on the defensive end have been a big reason for the Cougars' 15-game winning streak, according to Emmalee Rose.
"At the beginning of the season, our defense was kind of a weakness for us. Danielle Rehor definitely stepped up," the SM Northwest junior guard said. "She was really big. She was guarding most of the double-digits scorers, and kept them to single digits."
Emmalee Rose knocked down two three-pointers to account for six of her 10 points. She scored in double figures despite her pass-first, shoot-second approach. The Cougar point guard established a connection with sophomore forward Jordann Nachbar – who scored 10 points as well – and her sister.
"Brenni and I … we connect," Emmalee Rose said. "So when I get that steal, she's running and I give it to her. We just click and have really brought it together."
The win pushed the Cougars' record to 20-2 on the season, and locked up the No. 3 seed for the state tournament, which begins Wednesday at Wichita State's Charles Koch Arena. Wichita South (22-0) and Olathe South (20-1) are the No. 1 and 2 seeds, respectively, while Derby rounds out the top four seeds at 19-3.
The Cougars' first-round opponent is yet to be determined, though, as of Friday night. Olathe East, Washburn Rural and Dodge City are all 17-5 heading into the state tournament. Shawnee Mission West (12-10) will be the No. 8 seed.
The Cougars are familiar with two of the three possible teams that they'll matchup up against in the quarterfinals, as they have two victories over Olathe East and one against Washburn Rural. The No. 3 vs. No. 6 matchup is slated for 8:15 p.m., which is the last of the four games on Wednesday. The Kansas State High School Activities Association will announce the official bracket by 10 a.m. Sunday.
Northwest coach Tyler Stewart hopes to have McLain back for the state tournament, and figured to have more of an idea of the extent of her injury on Saturday.
"I don't know yet. They (trainers) are still looking," Stewart said. "I think we'll know more probably tomorrow once the swelling goes down."
McLain joined the Cougars' sub-state championship celebration on crutches, and had her right knee wrapped up in a bandage.
The state tournament will be the last one for McLain, Brenni Rose, Rehor and senior Carson Vielhauer, and they plan to make the most of their final go-around.
"I want a ring," Brenni Rose said, "and I want one really bad."
SMNW (58)
Gena Ojeda 0-3 0-0 0, Carson Vielhauer 0-0 0-0 0, Rachel Seibold 0-0 0-0 0, Jackie Sayers 0-0 0-0 0, Shelbie McLain 1-2 0-0 2, Megan Nugent 0-0 0-0 0, Emmalee Rose 2-6 4-4 10, Melissa Schmidt 0-1 2-2 2, Hannah Black 1-2 0-0 1, Jordann Nachbar 5-8 0-1 10, Danielle Rehor 3-3 2-2 9, Brenni Rose 10-20 2-3 24. Totals 11-23 9-11 58.
ONW (39)
Hannah Nelson 0-0 0-0 0, Jenna Wilkins 1-1 0-0 2, Madison Heise 2-3 2-4 4, Sierra Moore 0-0 0-0 0, Samantha Marks 1-6 0-0 3, Kaylie Kappelmann 0-0 0-0 0, Annemarie Boeh 5-8 0-0 12, Erika Boeh 1-4 5-7 7, Sarah Gueldner 2-6 0-0 5, Christen Curry 2-7 0-0 4, Ryley DeMaro 1-6 0-0 2, Taylor Cass 0-0 0-0 0. Totals 15-41 7-11 39.
SMNW 11 20 10 17 – 58
ONW 9 7 8 15 – 39

Three-point goals: SMNW 5-12 (Emmalee Rose 2, Brenni Rose 2, Rehor); ONW 4-21 (Annemarie Boeh 2, Marks, Gueldner). Turnovers: SMNW 6, ONW 11.