Teacher Feature: Laura Porras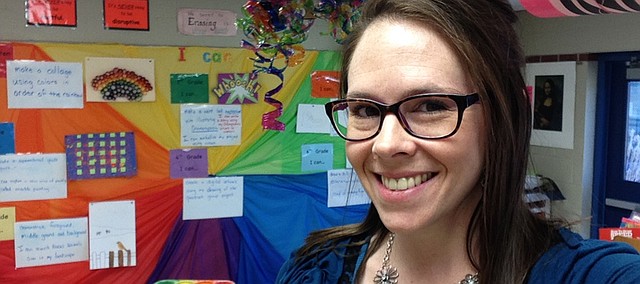 Laura Porras, art teacher at Broken Arrow Elementary, is the subject of this week's Teacher Feature.
Age: 40
Educational degrees: BA in Art Education, Fort Hays State University; BA in Art, emphasis in Art Therapy, Fort Hays State University; MS in School Leadership, Baker University
Teaching for: 17 years

Schools taught at: Quindaro Elementary and Eisenhower Middle School in Kansas City, Kan., David Brewer Elementary in Leavenworth, and Broken Arrow Elementary in Shawnee
Why did you want to be a teacher?

I've always wanted to help others, especially kids. I love seeing the wonder and excitement when someone learns something and you can see it connect in their brain.
What are your proudest accomplishments as a teacher?

Some of my proudest moments as a teacher are when former students track me down to share news of their joys and accomplishments, or contact me to thank me for making a difference in their lives.

What advice would you give a student considering teaching as a career?
Build relationships with students. They don't need a teacher to be their friend, they do need to know you care and believe in them. The students in your class(es) become your kids, not just for that year, but for life. You go home and think about your kids, it doesn't stop after your so-called eight-hour day is over. Theodore Roosevelt once said, "Nobody cares how much you know, until they know how much you care." This is true with your students.
Who has been your biggest inspiration?
I have two huge inspirations in my life. My mom, Beth Wilson, was my number one inspiration and encourager of all time. She taught me every mistake is a learning experience that should only fuel my desire to pick up any pieces and not only move on, but do anything I put my mind to. My other inspiration is my mother-in-law, Freda Ogburn. She was once my former principal who, before I even met her son, encouraged me to continue my education toward administration and earn my masters in school leadership. She taught me to lead by example and never ask someone to do something you would not do yourself.

What is a fun or unique project or lesson you have had in class recently?

In my art classes this past fall, our entire school participated in a global project called Pinwheels for Peace, celebrating the International Day of Peace on Sept. 21. Students created designs on two sides of a square to symbolize peace—at our school, in our community and in our world. We then discussed how sometimes art is created to decorate homes and look "pretty" but sometime art has another purpose. That purpose is to send a message.

Our Broken Arrow Trailblazers then took their pinwheels and put them outside around the school on their art day to send the message of PEACE! After a week outside, some of our pinwheels still looked great, and others were weathered, battered or broken (and some even blew away) but, they all succeeded. The success was in the message of peace our students sent through their artwork.
What is one way you use technology in the classroom?
This year, our students began using the online art museum website, Artsonia this year to keep a digital portfolio of their artwork. Students in grades 2-6 bring their iPads to art class, and among other uses, they take a photo of their completed artwork, create a title and artist statement for their artwork. When their artwork and writing is uploaded and I approve it, their parents (and fans like grandparents or other family who have been set up as "fans") immediately receive an email with notification so they can check out their child's artwork.
What makes your school great?
The kids are what make my job most enjoyable. Their excitement and eagerness to learn, explore and create are the most enjoyable aspects of my job.