Woman critically injured in Saturday evening crash on I-435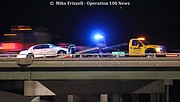 A Kansas City, Kan. woman was critically injured when her car was involved in a crash on Interstate 435 near Midland Drive just after 9:40 p.m. Saturday.
Kansas Highway Patrol troopers say the 2002 Lincoln Town Car was traveling northbound on I-435 when the car, "drifted off the outside shoulder striking the guardrail, then crossed to the inside shoulder striking the bridge rail before coming to rest."
The Shawnee Fire Department extricated the 45-year-old woman from the car. Johnson County Med-Act transported her to Overland Park Regional Medical Center in critical condition.
No other vehicles were involved in the crash and Troopers say the woman was traveling alone.
Troopers blocked two lanes of the Interstate as they investigated and cleaned up the crash scene. All lanes reopened around 11 p.m.
---
Operation 100 News provides overnight news coverage for the Shawnee Dispatch. Follow on Twitter for real-time updates.
More like this story