Cougars blow by Washburn Rural, 44-29, in state quarterfinals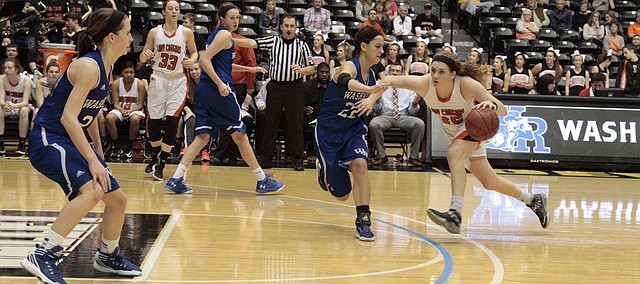 Wichita — Shawnee Mission Northwest girls basketball coach Tyler Stewart has praised his team's improvement on the defensive end during its 15-game winning streak entering the Class 6A state tournament.
Stewart was able to gauge just how big the Cougars' defensive strides have been after SM Northwest's 44-29 victory over Washburn Rural Wednesday at Charles Koch Arena in the state quarterfinals. The Cougars held off the Junior Blues, 49-48, on Dec. 11 at SM Northwest, but controlled Wednesday's matchup from beginning to end.
"I think the girls have just came in every day and improved, and have really bought in that it starts on the defensive end," Stewart said. "That shows right here as we held a really good Washburn Rural team to 29."
Much of the Cougars' defensive success has centered around their 1-3-1 zone, which requires a player to have a good sense of where their teammates are at on the floor. Stewart was concerned about the Cougars' defensive chemistry prior to their matchup with the Junior Blues – especially after losing starting senior guard Shelbie McLain to a torn anterior cruciate legimant in Friday's sub-state final against Olathe Northwest. Carson Vielhauer stepped into McLain's starting role, and Gena Ojeda and Melissa Schmidt played some key minutes off the bench to help ease their coach's nerves.
"I couldn't have been more proud with how the girls handled that situation. I told the girls in the locker room that it could have gone one of two ways, and we did it the right way," Stewart said. "They all stepped up in their roles, and were all-stars in their roles. I couldn't be happier with what they did."
Senior Brenni Rose manned the top of the 1-3-1 zone, and also led the Cougars offensively with 15 points and nine rebounds. Rose scored 13 of her 15 in the first half, as the Cougars jumped out to a 28-13 advantage at the half.
"Our goal was to hit them early, and really keep our foot on the pedal throughout the game," Rose said. "I have to be an example for those younger girls, so that was just my goal. (I need to) shoot when I'm open, and when I'm not, find the open shot for somebody else."
Fellow senior Danielle Rehor helped Rose spark the offense before the break with eight of her 10 points, including a buzzer-beating layup to end the half.
"We all had to step up this game and fill some spots," Rehor said. "We just had to come out stronger than they did."
While Rural was able to hold Rehor and Rose in check in the second half, the Cougars had another tandem to lead the way for the final 16 minutes.
Sophomore Jordann Nachbar and junior Emmalee Rose each had instances with five straight points, with Nachbarr doing so to begin the third and Emmalee Rose following suit in the fourth.
Nachbarr was saddled with three first-half fouls, but she knew that she still had to be aggressive to start the second.
"We had a lot of energy to stay in the game," Nachbar said. "We just had to keep going."
The Cougars (21-2) are expecting another defensive-minded game in the state semifinals, and will get the chance to avenge one of their regular-season losses when they meet Olathe South at 3 p.m. Friday. The Falcons (21-1) pulled out a 44-41 win over SM Northwest on Jan. 5 despite not taking their first lead until there was less than two minutes to play.
Brenni Rose reflected a little bit on the Cougars' setback to the Falcons, while also holding a piece of gauze to her mouth – as she was hit in the chops late in the fourth quarter against Rural.
"I lost a lot of blood tonight playing in the game, and it's going to be just like that," Brenni Rose said. "If I can't win, I'm just going to bleed it out on the floor."
The Falcons defeated Dodge City, 50-32, to clinch their spot in the semifinal matchup.
SMNW (44)
Gena Ojeda 1-2 0-0 3, Carson Vielhauer 0-1 0-0 0, Rachel Seibold 0-0 0-0 0, Jackie Sayers 0-0 0-0 0, Megan Nugent 0-0 0-0 0, Emmalee Rose 1-5 6-7 8, Melissa Schmidt 0-0 1-2 1, Hannah Black 0-0 0-0 0, Jordann Nachbar 3-7 1-1 7, Danielle Rehor 4-5 1-1 10, Brenni Rose 4-8 6-6 15, Donavyn Hill 0-0 0-0 0. Totals 13-28 15-17 44.
WR (29)
Baylie Sigmund 0-0 0-0 0, Megan Lucas 0-3 0-0 0, Carly Bachelor 3-8 2-4 8, Kendall Michalski 3-5 0-0 0, Brittany Woolington 0-1 0-0 0, Jessica Cummings 0-1 0-0 0, Jordyn Musselman 3-9 0-0 6, Inyesa Lutz 1-1 0-0 2, Lauren Biggs 1-5 1-2 3, Sydney Houser 0-0 0-2 0, Mercedes Parker 1-2 0-2 2. Totals 12-35 3-10 29.
SMNW 11 17 8 8 – 44
WR 6 7 8 8 – 29

Three-point goals: SMNW 3-8 (Brenni Rose, Rehor, Ojeda); WR 2-12 (Michalski 2). Turnovers: SMNW 11, WR 11.
More like this story