Police: Speed and alcohol contributing factors to Pflumm Road crash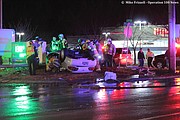 Shawnee Police have determined the 21-year-old Olathe woman who was injured in a February 16 crash at 63rd Street and Pflumm Road was driving nearly 80 mph when she lost control and crashed. The posted speed limit on that stretch of Pflumm is 30 mph.
The police department's accident narrative says, "Vehicle 1 was determined to be going 78 mph" in the left lane of southbound Pflumm when the car struck the center median at 62nd Terrace and began sliding sideways.
"Vehicle 1 continued sliding southbound in the inside (left) lane of travel and then into the outside (right) lane of travel," the report says. "Vehicle 1 then left the roadway at 63rd Street and Pflumm, where Vehicle 1 first struck a fire hydrant, then a city light pole and a wooden utility pole."
The impact with the fire hydrant is believed to be when the 2002 Chevrolet Malibu rolled over, trapping the driver inside.
Shawnee firefighters worked for more than an hour to extricate the injured woman from the overturned car.
Johnson County Med-Act Public Information Officer Angela Fera confirms the woman was transported to Overland Park Regional Medical Center in critical condition.
The police department's accident report shows that a preliminary impairment test determined the driver's blood alcohol content to be 0.11. The legal limit in Kansas is 0.08.
Major Dan Tennis of the Shawnee Police Department said the woman has been released from the hospital, but he was not able to say when.
"The driver was issued citations through Shawnee Municipal Court, for DUI, speeding, and reckless driving," Tennis said. "The driver should be presumed innocent until proven guilty in court."
The accident report also states that the roads were dry when the crash occurred. It started raining shortly after emergency crews arrived at the scene.
Operation 100 News has chosen to withhold the woman's name until after she appears in court.
More photos from the crash scene can be found on the Operation 100 News website.
---
Operation 100 News provides overnight news coverage for the Shawnee Dispatch. Follow on Twitter for real-time updates.