Face to Face:
KISS

Dog Training's Mike Deathe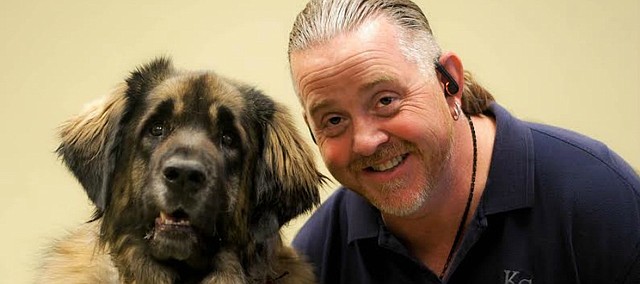 Name: Mike Deathe
Born: Overland Park
Family: Sons Donovan, 16, and Dylan, 12. Donovan is a student at Shawnee Mission North and Dylan attends Hocker Grove Elementary School. Deathe also has two dogs: Lexi, a Leonberger, and Leo, a black lab mix.
Occupation: Owner and founder of KISS Dog Training in Shawnee
Dream job as a child: Deathe has always loved animals. When he was young, he wanted to become a veterinarian.
Digging deeper: Deathe has held jobs in several different industries. He has been a district manager for Jiffy Lube and worked at several retail stores including PetSmart. When he started working at PetSmart, he realized a skill that he had yet to explore. He became a certified dog trainer and started teaching classes at the store in 2008.
He said he was happy to find his passion later in life rather than as a young adult because he is now able to appreciate it much more.
"I was able to realize just how lucky I was to be able to do something that I love and I am passionate about," Deathe said. "I don't know if I would've thought that earlier in my life."
He then left PetSmart to start his own business and work with Broadmore Kennels in Shawnee. Deathe's career as a dog trainer uses the diploma he earned from the University of Kansas in psychology in several ways — mostly, he says, because a lot of his work with dog owners is not so much about training the dog as it is about human psychology.
"Dogs are easy to train, it's the people that are hard to train," Deathe said.
He said a lot of dog behaviors people ask him to correct actually stem from bad human behaviors.
Deathe said any dog can be trained with the right amount of consistency, frequency and practice in addition to plenty of positive reinforcement.
Deathe trains dogs and people around the Kansas City metro and likes to work with them at the owner's house so he can see the animals in their own environment. He founded KISS Dog Training in 2010 out of his Shawnee home, where he has lived for 18 years.
"It somehow evolved into a full-time job," Deathe said. "It's great, my job makes me so happy."
Deathe now also teaches classes at Queen of Paws in Prairie Village. More information on KISS Dog Training can be found at www.kissdogtraining.com.
More like this story