Rose pours in 25 points to power
SM

Northwest to 6A state title game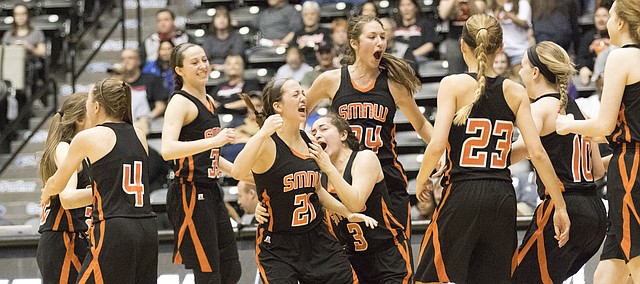 Wichita — Shawnee Mission Northwest senior Brenni Rose has committed to play for Drake University next year, but she already looked primed to play in the Missouri Valley Conference with her performance in the Class 6A state semifinals Friday at Wichita State's Charles Koch Arena.
Rose calmly sank the game-winning free throws with 2.8 seconds remaining for two of her 25 points to lead SM Northwest past Olathe South, 38-36.
"I've got every emotion going through me right now," Rose said. "I can't describe it."
The No. 3-seeded Cougars (22-2) looked like they were going to coast to their first state title game in school history after Emmalee Rose knocked down a three-pointer to push their lead to 28-14 with 4:53 remaining in the third quarter, but the Falcons didn't fall so easily.
South came all the way back to seize its first lead since 8-7 at the 2:44 mark of the first quarter when Makayla Gooch drove in for a layup to give the No. 2 Falcons a 33-32 advantage with 1:32 to go.
Gooch also led a comeback against the Cougars in the regular season matchup between the two teams as well on Jan. 5. The Falcons (21-2) grabbed their first lead of that contest with 1:13 remaining on their way to a 44-41 victory over the Cougars, but Rose was not about to let history repeat itself.
The Drake commit converted both ends of a 1-and-1 with 43.3 seconds left to put the Cougars back up one, and then made two more with 15.8 to play to stretch the Cougars' lead to three at 36-33. Olathe South's Kacey Kennett answered, though, knocking down a three-pointer at the top of they key to tie it with 9.9 seconds left to tie it at 36-all.
Brenni Rose felt confident that the Cougars could win in overtime, but worked to get open to throw up one last heave in regulation. The 6-foot senior got fouled by Zoe Matje at three-quarters court with 2.8 seconds left, and went to the line to make some history of her own.
"When it was tied, I was like, 'You know what? Either way, we were going to get them into overtime, and it was going to work out, but it will be a lot less stressful to just make them at the line right now,'" Rose said.
Prior to going a perfect 6-for-6 at the charity stripe in the final 43.3 seconds, Brenni Rose had only scored two points since beginning the third quarter with a traditional 3-point play. Rose played a big role in building the Cougars' lead by scoring 10 points in the first quarter – including a buzzer-beating backdoor layup that was assisted by her sister Emmalee Rose.
The Rose tandem connected to continue the buzzer-beating trend in the second quarter, as Emmalee found Brenni for an open 3-pointer as time expired to give the Cougars a 22-14 advantage at the half.
"We've been playing together for a really, really long time, so I know exactly where she is going to be, and exactly where she is headed," Emmalee Rose said. "After we went off that pick for the three to end the second quarter, she just rolled right off. I knew I was covered, so I just dished it to her and she managed to knock it down."
The win was was special for the Rose sisters and the rest of the Cougars with being able to clinch the first championship game appearance for the SM Northwest program, but it meant a little bit more with it coming against the Falcons. Along with clipping the Cougars in January, the Falcons bounced them out of the 2014 state quarterfinals, 59-57, and previously had SM Northwest's number.
"It definitely meant more because we haven't beaten them in almost 12 years or whatever," Emmalee Rose said. "This was huge, and made it that much better. It was like a cherry on top."
Cougars coach Tyler Stewart was thrilled about the win following the game just like his players, but said there is still more work to be done. The Cougars will clash against No. 1 seed and undefeated Wichita South (24-0) at 4 p.m. Saturday for the state championship. The Titans defeated Olathe East, 43-36, in the other semifinal.
"We're excited. We're pumped, but we still have one more to go," Stewart said. "We don't want to settle for just getting there. We want to win the whole thing."
SMNW (38)
Gena Ojeda 0-2 0-0 0, Carson Vielhauer 0-1 0-0 0, Emmalee Rose 1-4 0-0 3, Melissa Schmidt 0-0 0-0 0, Jordann Nachbar 2-4 0-0 4, Danielle Rehor 3-5 0-0 6, Brenni Rose 7-15 8-9 25. Totals 13-31 8-10 38.
OS (36)
Kaitlynn Butaud 0-0 0-0 0, Makayla Gooch 3-7 2-3 10, Kala Holder 1-8 0-0 2, Zoe Matje 0-5 0-0 0, Kacey Kennett 5-12 1-1 12, Dejanae Roebuck 3-4 0-1 7, Lindsey Bartels 1-1 2-2 4. Totals 14-40 5-9 36.
SMNW 12 10 6 10 – 38
OS 10 4 6 16 – 36
Three-point goals: SMNW 4-10 (Brenni Rose 3, Emmalee Rose); OS 3-16 (Makayla Gooch 2, Kacey Kennett). Turnovers: SMNW 16, OS 7.
More like this story