For fourth straight year, school advocates march to Topeka, but stakes are higher than ever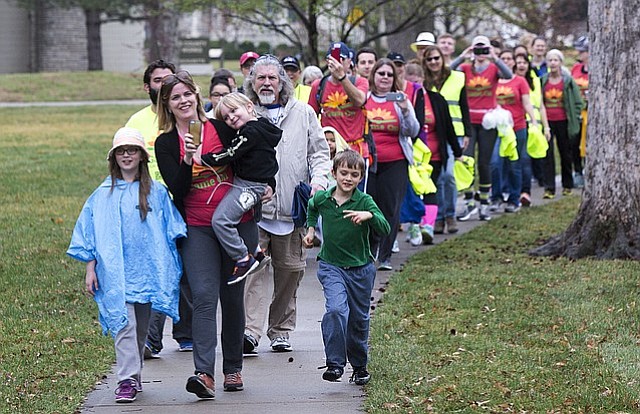 TOPEKA — Three years ago, Heather Ousley was just one frustrated mother in Johnson County who wanted to show her concern about conditions in her daughter's school.
"The reason we got involved was because our daughter's class in first grade had 19 students in it, and in second grade jumped to 30, so that was kind of an eye-opener," she said. "I don't know if you've been in a classroom with 30 7- and 8-year-olds. They are wiggly by nature. And it's very difficult. The teacher valiantly carried on, and we couldn't have asked for better educators, but that is an insurmountable task."
That year, as Kansas lawmakers were embroiled in their annual struggle to pass a budget, Ousley and a group of other public education advocates set off on foot from Merriam to the Statehouse in Topeka, a three-day journey that caught the public's attention and drew media coverage all along the route.
She and other members of the group Game On for Kansas Schools have continued to march each year, despite their lack of success in changing the direction of school funding policy in the Kansas Legislature.
But she and her husband, Jarrod, remained politically active in their push for increased school funding, and in 2014 Jarrod was elected to a seat in the Kansas House.
And last weekend, they did it again, this time with three separate marches going simultaneously, originating from Johnson County, Emporia and Manhattan.
They converged in Topeka on Monday, with a rally at Topeka High School, followed by a final walk a few blocks down the street to the Statehouse.
This year's march, however, came at a time when the stakes are higher than ever before. After lawmakers last year repealed the 20-year-old school funding formula, replacing it with a system of block grants, the Kansas Supreme Court has ruled that at least part of that change was unconstitutional, and it has threatened to shut down public schools if lawmakers do not come up with an acceptable funding plan by July 1.
"Everything's at stake, isn't it?" Ousley said during an interview last week. "They're threatening to not have a formula in place and shutting down schools in July. Even if they have a formula in place, I don't' think anyone is certain there's money to fund it. So what would that mean if they did come up with an equitable formula but there wasn't any money to put into it?"
In February, the Supreme Court addressed one portion of the school finance case, declaring that changes lawmakers made to "equalization" funding were unconstitutional because some districts had to levy higher property taxes than others to achieve substantially similar levels of funding.
On Friday, two bills were introduced — one in the House; another in the Senate — that would address the equity issue.
Rep. Ron Ryckman Jr., R-Olathe, who chairs the House Appropriations Committee, introduced one that would essentially restore the old equalization formula for one year. He said it would cost about $38 million.
But it would not result in additional money for schools. Instead, the additional state dollars would offset property taxes in some districts, including Blue Valley and Shawnee Mission, whose equalization aid was reduced by the 2015 law. It would also result in higher taxes for other districts, including Wichita, Ryckman said.
"The courts are threatening to close schools based on property tax that goes up or down, not money that goes to the schools," Ryckman said.
The second bill, from Sen. Ty Masterson, R-Andover, who chairs the Senate Ways and Means Committee, would not add any more state money to the formula, but would redistribute the money already appropriated in a way that would level out the tax disparities.
Detailed analyses of the two bills were not available by the end of the week.
Meanwhile, the Supreme Court is getting ready to hear oral arguments later this spring on the much larger question at stake in the suit, whether overall funding for Kansas public schools is adequate to produce the results expected of them.
A three-judge district court panel ruled last year, for the second time, that overall funding is not adequate to meet the Kansas Constitution's mandate for "suitable provision" for public school funding. That panel ordered the state to increase funding by roughly $500 million a year, an order that has been put on hold pending the appeal.
Conservatives in the Legislature have bristled at such judicial orders, arguing that they have sole authority under the Constitution to appropriate money. A bill that passed out of the Senate Judiciary Committee on Thursday providing that attempting to usurp the authority of the legislative or executive branches would be grounds for impeaching a Supreme Court justice.
Meanwhile, Ousley and other members of the Game On organization plan to continue marching. And if their marches on the Statehouse don't produce results, she said they hope their votes at the ballot box in November will.
"I think ultimately our goal is to tell parents to get in the game," she said. "I mean, it is time to be paying attention. It is time to be focusing on what is impacting their children and their children's classroom. We are the people who are being represented in Topeka. And if our concerns aren't being addressed, we need to consider who we're electing to represent us."
More like this story