KU

Medical Center mulls unique challenges to implementing campus concealed carry law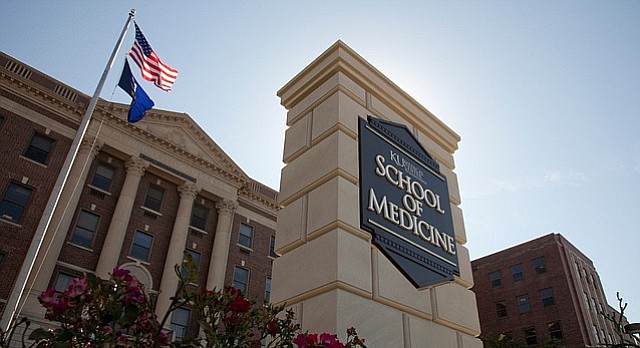 Kansas City, Kan. — Research subjects coming in for a brain scan at Kansas University Medical Center's Hoglund Brain Imaging Center are usually asked to strip down to scrubs.
When concealed handguns become legal on Kansas state university campuses, and someone brings one to the center, where will the subject put the gun during the procedure?
That question was posed by professor and center director William Brooks last week during an informational session about imminent changes to the state's concealed carry law and how the university will implement them.
It's precisely the kind of unique, medical center-specific scenario that a committee is looking to hear about in order to find solutions, KU Medical Center Police Chief Rick Johnson said.
"One thing that's clear, we as a university will need to provide secure gun lockers at strategic locations," Johnson said. "This is a complicated issue."
Faculty organized and led last week's informational session at the medical center, which was also streamed online. The session was similar to one staged on the KU Lawrence campus in December.
Patricia Kluding, the medical center's Faculty Assembly steering committee chairwoman, and Mike Williams, Lawrence campus University Senate president, updated attendees on the law and took questions, deferring some to Johnson.
Under the Kansas Personal and Family Protection Act, state universities must allow concealed carry on their campuses beginning in July 2017. Universities can prohibit legally carried concealed guns from buildings only if adequate security measures, such as metal detectors and guards, are installed.
The Kansas Board of Regents has approved amendments to its statewide weapons policy to account for the change, and individual universities now are working on campus-specific policies, due to the Regents before October.
KU Chancellor Bernadette Gray-Little has formed a systemwide Weapons Policy Advisory Committee to tackle the task.
Working within that committee are two subcommittees, one to determine a campus-specific plan for KU's Lawrence, Edwards (Overland Park) and Kansas Law Enforcement Training Center (Yoder) campuses, and the other for KU Medical Center.
The concealed carry law doesn't apply to hospitals, but implementation may be tricky because many of the campus' hospital and academic spaces are "contiguous," Kluding said.
"I don't think there are going to be easy answers to the questions," she said.
Williams said other details to be worked out at both Lawrence and the medical center include exactly how to determine whether a gun is "on your person" and whether it's possible to exclude some areas such as labs with combustible materials by requiring key codes or card-swipes by limited personnel to enter.
"We're talking micro-examination of all of this stuff in the next six months," Williams said.
Just as they did on the Lawrence campus in December, most attendees who commented indicated they did not support allowing guns on campus and were afraid of having them there.
Some people do favor it, however, saying the law will allow KU students and employees to carry guns for self-defense if they so choose.
In one medical center-specific example, a man cited the campus' location in urban Kansas City, Kan., where there is more crime than in Lawrence. The man, who did not give his name, said just recently someone was assaulted across the street from campus.
The Weapons Policy Advisory Committee — which Kluding and Williams are on — wants to hear campus-specific concerns from all KU locations. The committee email address is weaponspolicy@ku.edu, and more information is online at weaponspolicy.ku.edu.