Shawnee is 'second home' for St. Patrick's Day parade guests from Listowel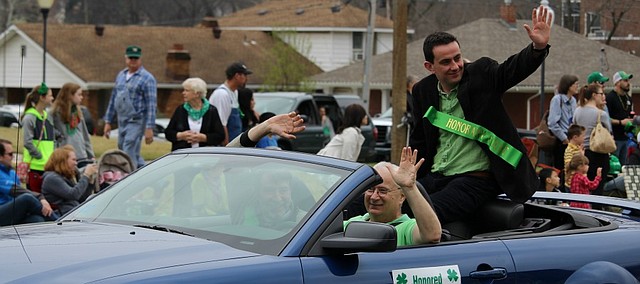 For first-time Shawnee visitor Jim Moloney, mayor of Listowel, Ireland, the city couldn't have made a better impression.
Photo Gallery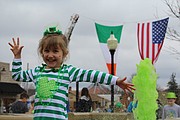 2016 Shawnee St. Patrick's Parade, Heroes Pull and Duck Race
Moloney came to Shawnee to experience the 34th annual St. Patrick's Parade, Heroes Pull and Duck Race and said Shawnee and his home city have a lot in common.
"This place is truly special," he said.
Shawnee is much larger than its Sister City of Listowel. Shawnee's population is more than 60,000 and growing, compared to the 4,000 residents of the rural city of Listowel. However, Moloney said they both have a lot in common. Both have impressive histories and people who genuinely care about their community. He was also pleased to see that so many in Shawnee were proud of their Irish history.
"You can see by the crowds here that people appreciate their heritage," Moloney said.
Moloney visited Shawnee this weekend with fellow dignitary Damian Stack. Stack has now visited Shawnee for 23 consecutive years. He said Shawnee is his "second home" and wouldn't miss Shawnee's annual celebration for anything.
"The sister cities program is very important, you forge and strengthen very strong relationships," Stack said.
While Listowel is commonly called the Literary Capital of Ireland, thanks to a number of internationally known playwrights and authors that call the city home, including Bryan MacMahon and John B. Keane, Moloney said he was equally impressed by Shawnee's history and people.
"The hospitality here has been fantastic," Moloney said. "It truly is a second home."
Shawnee is able to host the dignitaries from its sister cities thanks to the Sister Cities Committee that raises funds through the annual Duck Race.
This year's Duck Race saw a record number of plastic ducks purchased and hundreds gathered to see whether their duck could claim the $1,500 grand prize for navigating a man-made river in Herman Laird Park the fastest.
The weather behaved for the second straight year Sunday, and thousands turned out to enjoy the activities.
The annual Heroes Pull at Splash Cove saw 16 teams compete in pulling a fire truck and armored vehicle. Contestants had to pull each vehicle 50 feet in the fastest time.
For the second straight year, the Shawnee Fire Department took home the top prize, pulling the 38,000-pound fire truck 50 feet in 13.36 seconds and the 34,000-pound armored vehicle 50 feet in just 10.5 seconds.
The Shawnee Fire Department and Shawnee Police Department raised a combined $8,000 for Special Olympics of Kansas in this year's Heroes Pull.