Two crashes near Shawnee Mission Parkway and Pflumm Road Tuesday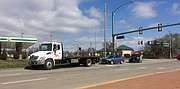 Two crashes occurred within an hour of each other on Tuesday near Shawnee Mission Parkway and Pflumm Road.
At 11:24 a.m. officers were dispatched to the intersection of Shawnee Mission Parkway and Pflumm Road for a two vehicle crash.
Major Dan Tennis of the Shawnee Police Department said a white 1978 Chevy C-20 work truck ran the light going westbound on Shawnee Mission Parkway and took the front bumper off a 2012 Nissan Altima that had just started to turn left onto eastbound Shawnee Mission Parkway from southbound Pflumm.
Tennis said one driver received a citation for disobeying a traffic light. No injuries were reported.
Less than an hour later at 12:14 p.m., officers were called to the Sonic Drive-In at 13601 W. 63rd Street for an accident involving a pedestrian in the parking lot.
"A driver was backing out of the parking stall of Sonic and collided with a pedestrian walking across the lot," Tennis said.
The pedestrian was able to walk away from the accident, Tennis said, but was ultimately transported to the hospital for treatment.
---
Operation 100 News provides overnight news coverage for the Shawnee Dispatch. Follow on Twitter for real-time updates.