Driver's inattention blamed for Wednesday morning crash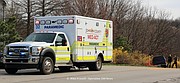 Shawnee Police say a driver not paying attention to the road caused a minor injury crash late Wednesday morning.
Police were called to Johnson Drive and Pflumm Road on a reported crash at 11:08 a.m.
Arriving officers found two vehicles were involved and one came to rest on a sidewalk, near of Haskins Street.
Major Dan Tennis of the Shawnee Police Department says the driver of a Ford Excursion was eastbound on Johnson Drive and sideswiped a westbound Pontiac passenger car.
A passenger in the car complained of neck and back pain following the crash and was transported to an area hospital by Johnson County Med-Act with non-life threatening injuries.
"One citation was given for: driving left of the center line," Tennis said.
---
Operation 100 News provides overnight news coverage for the Shawnee Dispatch. Follow on Twitter for real-time updates.
More like this story