Brull looks to lead
SMNW

swimmers back to state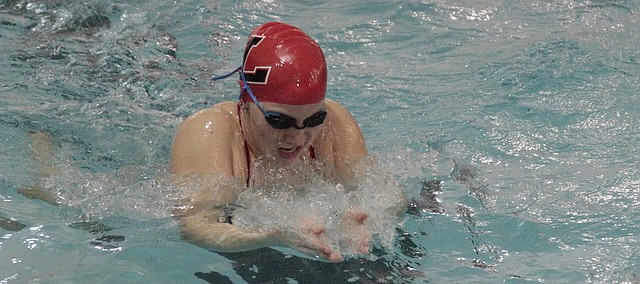 Shawnee Mission Northwest's girls swim and dive team returns to the pool this spring after placing seventh at the state meet in 2015.
The Cougars will be led by Hailey Brull, who is the defending state champion in the 100 breaststroke.
"We set the bar high last year, and now we want to exceed it this year as a team and as individuals," SM Northwest coach Dave Pfortmiller said.
Brull, who also qualified for state individually in the 100 butterfly, will be a key piece on the Cougars' relay teams again this spring. Meaghan Bower and Paige Eichkorn will join Brull on the 200 medley and 400 freestyle relays, which both qualified for state last year.
"It's a great feeling knowing that we're going to get all of our relays in again, and our individuals are going to be just as successful," Pfortmiller said. "We've had a couple of new kids join the team this year as freshmen and sophomores who are moving in and trying swimming this year that are really accelerating. It's going to be interesting to see the new kids on the team, and how well they're going to do."
The Cougars will start their season Wednesday at the SM North Invitational.
"We've kind of hit the ground running, and we're all working hard. They're all tired after every practice, so that's good," Pfortmiller said. "A lot of them are listening to us so we can try new techniques with them. We're changing up our practices, getting them ready for meets and they're all on board with it."
More like this story