SMNW

alumna Wagler wins

NJCAA

Division

II

women's hoops title with

KCKCC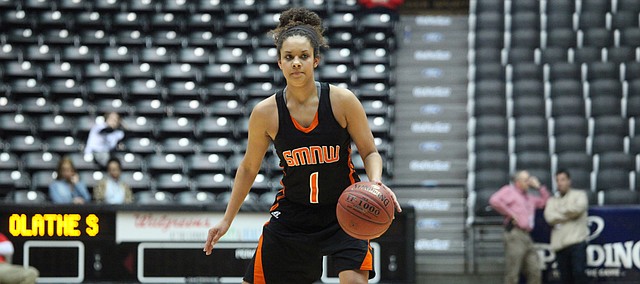 Overland Park — Shawnee Mission Northwest alumna Brooklyn Wagler scored 15 points and pulled down 10 rebounds to lead Kansas City Kansas Community College to a 81-59 win over Illinois Central CC in the NCJAA Division II women's basketball championship game Saturday at Johnson County CC.
"I honestly can't even put into words how amazing that felt. I couldn't have picked a better group to do it with," Wagler said. "My team went through so much adversity this year. There was a lot going on with having a new coach, all kinds of injuries."
Wagler averaged 11.5 points and seven rebounds per game in her freshman season to help the Blue Devils to a 33-3 record.
Kansas City Kansas CC entered the national tournament as the No. 4 seed, but upended No. 13 Waubonsee, No. 5 Owens, No. 1 Monroe on and No. 2 Illinois Central en route to winning the title.
"People doubted us," Wagler said. "People thought Johnson County should have been there instead of us, and just to prove everyone that we are the best team in the nation for our level was just incredible."
The Blue Devils didn't just squeak by their opponent in the national tournament either. Kansas City Kansas CC's average margin of victory during its championship run was 19.25 points per game.
Wagler scored in double figures in each contest to earn a spot on the all-tournament team. The SM Northwest product shot 23-for-34 from the field over the four tournament games, which was good for 67.6 percent.
Before being a core piece of the Kansas City Kansas CC team, the 5-foot-7 guard also paced SM Northwest to back-to-back Class 6A tournament berths in 2014 and 2015. Wagler played her first three high school seasons for former SM Northwest coach Jeff Dickson, and culminated her Cougar career with Tyler Stewart at the helm. The SM Northwest alumna had high praise for both coaches for preparing to play at the collegiate level.
"That was one thing I loved about Coach Dickson is that it was all about the team," said Wagler of the current Lawrence High coach. "If we won the game and you had a bad game and were upset about it, he would be very upset with you because there is no reason to be upset when your team wins. That was one thing that I really took from him."
Despite only playing for Stewart for one year, Wagler said that the current Cougar coach taught her a lot – especially about the X's and O's of basketball.
"With Coach Stewart, I can't say enough about him. He really prepared me," Wagler said. "I've never had a coach like him. He's very intense, cares so much and his basketball IQ is just so high. I absolutely loved playing with him."
Along with a few of her former coaches, numerous friends and family members came to watch Wagler on Saturday and throughout the tournament. Wagler expressed that one big reason she chose to play at Kansas City Kansas CC was being able to continue her career so close to home, and having so many loved ones in attendance made the championship that much more special.
"I had family from three and a half hours away come and support me that I didn't even know were going to come. My club coaches were there, and everyone was there," Wagler said. "I didn't even know how many of these people were still keeping up with me, and just to have all of them there to support me and to see that happen, I can't even put into words how amazing it was and how much I loved it."