New urgent care facility part of redevelopment project on Shawnee Mission Parkway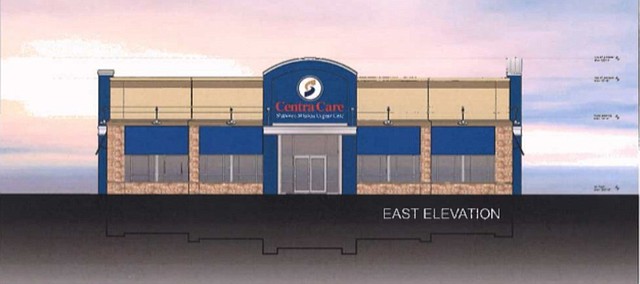 The Shawnee Planning Commission approved preliminary plans for a two lot-commercial redevelopment of the space formerly occupied by Office Depot next to 24-Hour Fitness on Shawnee Mission Parkway.
The developer, Parkway Center, LLC, is planning to subdivide the property into two lots, calling it the Parkway Shopping Center, for the construction of a new urgent care medical office and retail space.
One lot contains the 246,688 square feet of retail space formerly occupied by Office Depot. The second lot would be a new pad site in the parking lot between Shawnee Mission Parkway and the building. The new east-facing building would contain 21,520 square feet of space for a new Shawnee Mission Health urgent care center called Centra Care, according to its initial site plan.
The new building is proposed at the northwest corner of the expanse of asphalt located in front of the multi-tenant building. The parking lot would be reconfigured with modified and new traffic islands to better define drive aisles and provide enhanced vehicle guidance. The new islands would also further break up existing areas of pavement with more landscape material. Once the project is complete, the entire parking lot will contain significantly more green space, according to the city staff's report on the proposal.
Currently, the shopping center provides 317 parking spaces, not including underutilized parking that is shared with the adjacent Tile Shop to the east, according to the staff report. The new building footprint will absorb some underutilized parking spaces on the site, leaving 274 parking spaces after construction.
Shawnee Mission Medical Center currently operates two other Centra Care Urgent Care facilities — in Lenexa at 91st Street and Quivira and in Overland Park near 135th Street and Antioch. The urgent care facilities are staffed by board-certified physicians, registered nurses and radiology technicians. The locations also have laboratory and X-ray facilities onsite to better serve patients' needs.
The potential occupant of the larger lot was not announced.
The previous tenant of the targeted space, Office Depot, closed late last year. The office supply store merged in 2013 with Office Max, and signs posted at the closing store directed customers to visit the Office Max near Shawnee Mission Parkway and Lackman Road.
The Shawnee Planning Commission unanimously approved the final plat and initial site plan for the urgent care building on Monday. The City Council will now consider the final plat, and further consideration by both the Planning Commission and Council will be needed before final construction plans are approved.
The area is seeing new redevelopment as McAllister's Deli recently opened with plans to build another new business on the north side of Shawnee Mission Parkway adjacent to the new restaurant.