Face to Face: Moe Sharifi, owner of Pegah's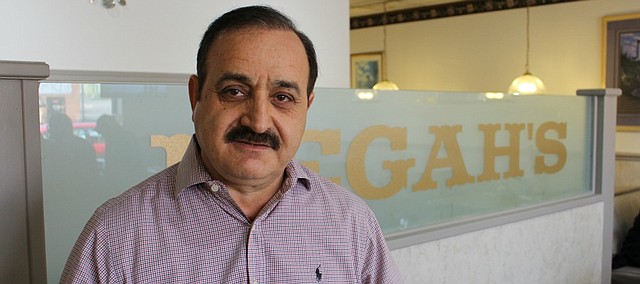 Name: Moe Sharifi
Born: Tehran, Iran
Family: Wife, Nanaz, and their grown son, Rameen, and daughter, Nadia. Both of Sharifi's children are recent University of Kansas graduates.
Occupation: Owner of Pegah's Family Restaurant
Dream job as a child: Sharifi is living his dream job as he says that he always wanted, from a very young age, to work in the restaurant business.
"I like meeting people, working in public," Sharifi said.
About 29 years ago, Sharifi was asked to help a friend open a restaurant called Pegah's in Shawnee. In the meantime, he managed an Olathe truck stop for 11 years before opening his own Northland restaurant for about 10 years. Then, in 2012, he sold that operation and purchased Pegah's. Last year, he expanded the business to western Shawnee with Pegah's West and south to Lenexa with Pegah's Lenexa.
Digging deeper: Sharifi was recently the victim of a scam that cost him $1,500, but he was able to turn that negative into a positive for a member of the community.
Sharifi received a call last week from a scammer pretending to be with KCP&L, telling him that if he didn't pay his late power bill, the power to his restaurant would be turned off within hours.
"I was so busy that day that I didn't have a second to stop and think and check my bill," Sharifi said.
Sharifi said he is on KCP&L's auto-debit system and had never missed a payment. However, Sharifi made arrangements to pay the caller the $1,500 so his restaurant wouldn't lose power.
It wasn't until later that he realized what had happened. Sharifi called KCP&L to see if they got his payment and they told him that he didn't have any late payments.
He then tried to call the scam phone number back and it was a dead line.
The Shawnee Rotary Club heard about Sharifi's experience and decided to surprise him with some financial help last Friday. Sharifi is a member of the Rotary Club, and Pegah's caters the group's Friday morning meetings.
The group presented Sharifi with a gift basket of private donations to help make up some of the cost of the scam.
"I was so happy to see people being so thoughtful and generous, but I didn't even count it and gave it right back to them," Sharifi said.
Sharifi turned the donation around and gave it back to the Rotary Club, which is in turn using that money to help fund a local exchange student's trip to New York City.
"What happened to me is now helping someone else," Sharifi said. "It shows how much Shawnee cares. I love Shawnee."