Shawanoe Elementary settles into new building
Staff, students 'in awe' of space, furniture, technology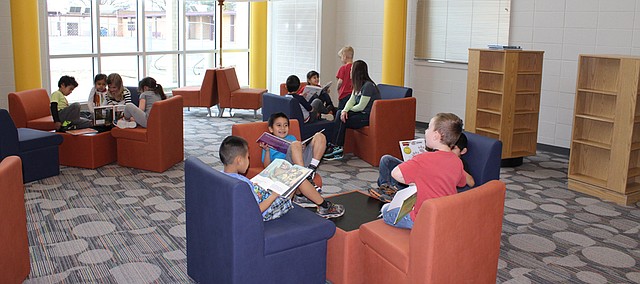 Kelsey Porter, a third-grade teacher at Shawanoe Elementary, thinks her students were already thankful for the things they had at their old school building.
So it was a real pleasure watching them on their first day Tuesday in the school's new facility.
"They didn't know anything different until they got here, and then they realized," Porter said. "They got here, and I feel they have a sense of pride and accomplishment, almost like they've worked hard for it. … They know that they're cared about because our district has built this new building for them."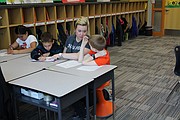 The Shawnee Mission school district built the new facility with capital outlay funds behind the outdated original school, 11230 W. 75th St., built in the 1960s. Alejandro Schlagel, principal, said the staff has also been appreciative of all the new school's features.
"I think everyone's still in awe," he said. "… We had a staff meeting in (the library), and it felt so weird with that new furniture, I think everyone thought, 'I don't feel like I'm in a school, I feel like I'm in an innovative board room.'"
The new building meets the district's new safety and security standards and has all of the other technological bells and whistles — everything connected to Apple TV, motion-sensor lights and "green" bathroom features, such as Dyson airblade hand dryers and low-flow toilets.
Also popular among the students, 30 percent of the chairs in the school are Hokkis, brightly-colored stools with a rounded bottom so they are intentionally wobbly for students who have trouble holding still while doing seat-work.
And most of all, there's more space for the 430 students the school currently has, taking it from 5,400 square feet to 8,900 square feet. Instead of having a combined staff lounge and workroom, there is a dedicated staff lounge and workrooms for each grade level. Rather than just one adult bathroom, there are multiple adult bathrooms.
Rather than just one pre-kindergarten room, there are now three, which will allow that program to grow, and the preschoolers now have their own small playground. Preschoolers also have their own secure entrance.
The art room has about double its original size, with four sinks instead of just one, plus a kiln room and a storage room. There is a separate cafeteria and gymnasium, rather than a combined multipurpose room. The food service workers are enjoying a much larger kitchen with more storage, and the gym doubles as a storm shelter and has a stage and its own bathrooms.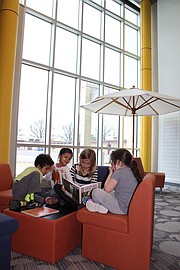 "Everything is just grand here," Schlagel said. "In (the old) building, they dropped the ceiling so many times… literally you could touch the ceiling with your hand. Our tall sixth-graders could be poking ceiling tiles. Now, we're like, 'Wow.'"
The space is needed, because the school's population has grown from 350 students five years ago, and the district expects the new building to attract more.
The old building will slowly be demolished over the next few weeks. Until a new drive, parking lot and green space can be constructed in its place, a temporary walkway brings walking students to the new building's front door, and drop-off and pick-up for buses and parents must be made at the rear of the building.
But any slight hassles like that are worth it, according to Marianne Gray, a kindergarten teacher who has been with the school for the past 10 years.
"Our playground is safer, I can tell that already," she said. "At the end of the day, the students say, 'I love this place, I just love it.'"
Because the school serves a large population of low-income families, Porter explained, for some students the school is the first new thing they have had in their life. She said her students have latched on to their new home and the idea that, as the first students in the building, they should take care of it for future students.
"This is such an exciting time — they're 9 years old, and it's such a pleasure to watch their faces," she said. "… It touches me so much to see how hard they've worked in their studies, and this is like a gift for them."
More like this story