Cougars take second, Indians place fifth at district girls swim and dive meet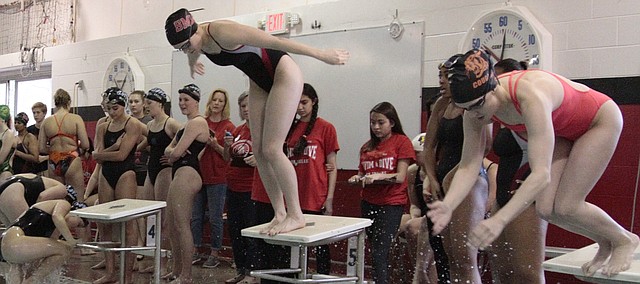 Overland Park — Shawnee Mission Northwest girls swim and dive coach David Pfortmiller held most of his varsity athletes out of the team's first meet on Wednesday to make sure that they were well rested for the district championships Saturday at SM North, and to stay fresh in the early stages of the season.
If the Cougars' showing at the district meet was any indication, the SM Northwest coach's decision paid off.
The Cougars took second place with 434 points, and received a number of individual and relay-team performances that impressed Pfortmiller.
"A lot of them looked at their times today compared to their personal bests from last year," Pfortmiller said. "They were a few seconds off or had already beat their personal bests from last year, so they're all really excited about it."
Junior Hailey Brull led the Cougars with first-place finishes in the 200 freestyle (2:00.86) and 100 breastroke (1:12.21). Brull was itching to get in the pool for her first meet of the season, and believed that the second-place team finish was something that the Cougars could hold their heads high about.
"Oh my God, it's awesome," Brull said. "We've improved so much, and all of our girls are here and we have a ton of varsity and junior (varsity) girls. We're just all excited to swim."
Northwest senior Meaghan Bower added a win in the 200 IM with a time of 2:18.43, and narrowly missed a second victory in the 100 butterfly. Bower clocked in at 1:01.26, just 0.25 behind SM East's Bonnie Longan. Longan and the Lancers won the district title with 696 points.
"Her stroke are getting around. She's getting that confidence back," said Pfortmiller of Bower. "Just coming in and having a lot more fun and having a good senior year. She's happy about it, and we're all happy for her."
Brull and Bower also chipped in to help all three of the Cougars' relay teams to hit state-qualifying marks.
Bower, Paige Eichkorn, Elina Rauvala and Maddison Jarman placed second in the 400 freestyle relay with a time of 4:09.41. The team of Piper Schuerman, Cassie Gomer, Rauvala and Brull added a third-place finish in the 200 free relay — touching the final wall at 1:53.08.
SMN's Merriman picks up two more wins
When Brull wrapped up the anchor leg of the 200 free relay for SM Northwest, she caught her breath before looking up at the clock. Brull had just been out-touched by SM North's Joely Merriman, but all the two swimmers could do was turn to each other and smile.
Just like Brull, Merriman swam to two event championships, as she took gold in the 50 and 100 freestyle with respective times of 25.20 and 55.15.
"As we continue to train and get better throughout the season, it's encouraging to see her close to her best times, close to the school records," said SM North coach Alex Morris of Merriman. "She's already got qualifying times in the 50 free and the 100 free, and we've got all of our relays qualified, so it's definitely encouraging for the rest of the season."
Joining Merriman as a top-three finisher in the 50 free was SM North senior Caitlyn Howard. The district meet doubled as Senior Night for SM North — making for a special day for Howard.
"It was really special just being a senior and having that traditional last lap," Howard said. "It was really great seeing everyone who came out to support all of the seniors."
Howard led off SM North's second-place 200 free relay team. As she completed the first leg, another Howard jumped in: Caitlyn's sister, Brooke. While Caitlyn's career at SM North is winding down, Brooke's is just starting. The elder Howard is glad to be able to swim one high school season with her younger sister.
"It's great. I knew it was going to come one day," Caitlyn Howard said. "It's bittersweet, but I know she'll take over right when I leave. That's good to know."
The fifth-place team finish was not what the Howard sisters or Morris was looking for, but they have bigger goals in mind that they are striving for.
"As a whole, we didn't place as high as we thought we could have, but we had some good races," Morris said. "We had a couple of difficult days back at practice, so we weren't as rested and prepared maybe as we were for the Wednesday meet. Come the end of the season when we take time to fully rest and get prepared, I think we're going to be looking really good."
More like this story