Running laps on a shockingly cold afternoon Thursday, Audrey Holick and Abigail Warren were inspired to create a chant.
"Who are we? Girls on the Run! What can we do? Anything! Who can join? Everyone!" the Clear Creek Elementary students shouted as they ran.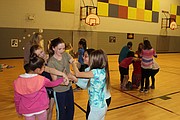 Their Girls on the Run coach, Marilyn Boaz, said the girls weren't especially hyped by a sugar rush — they were always that enthusiastic at their practices. She said the chant was evidence that the program helps girls feel empowered to do everything.
"It is a great program that inspires girls to have confidence, self-esteem and healthy choices and uses running to reinforce all of those," she said.
Programs such as Girls on the Run that combine character development with running are becoming more popular at area elementary schools. Girls on the Run programs, for girls in third through fifth grades, are available at three Shawnee-area schools: Clear Creek and Riverview Elementary in the De Soto school district, and Bluejacket-Flint Elementary in the Shawnee Mission district.
Additionally, a program for fourth- and fifth-grade boys called Let Me Run — founded by a mom of boys inspired by Girls on the Run — will begin at Horizon Elementary in the De Soto district on Tuesday.
Girls on the Run was founded in 1996 and has been in the Kansas City area since 2007. The Jackson County, Mo., and Johnson County groups merged in 2012 to become the Greater Kansas City group.
Erin Espy, marketing and events manager for the organization, said that last year they added five counties to their coverage area, which now includes 15 counties. She said it's fairly easy to start a Girls on the Run team, because there is no start-up cost for a school, which just has to provide the practice space.
There also have to be two or three coaches for teams of eight to 15, and the coaches must go through a background check and coach training. One coach also needs to be CPR certified. The teams have two 10-week seasons, one in the fall and one in the spring, and each season ends with a 5K race.
"Usually someone at the school, sometimes a parent or a teacher, just reaches out to us and says that they are interested," Espy said.
That's what Bluejacket-Flint parent Tiffany DeBoe did last year. A runner herself, she said she started having her daughters run with her about four years ago. She learned about Girls on the Run shortly thereafter but discovered there weren't any teams very close by — the closest at the time was at Roesland Elementary in Mission.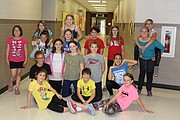 She also had to wait until her daughters were in third grade to start a group, so that's what she did last fall. The group quickly grew in popularity, attracting a team of 19.
DeBoe said she already has seen a difference in her team after just one season.
"I've had a lot of parents tell me that it's amazing to them to see their girls, just from the first season, how they have opened up, they're more confident, they have more of a sense of self-worth," DeBoe said. "They say, 'I can do this (because) I can run a 5K.'"
Clear Creek Elementary's team has been established for five years, with Boaz as the coach for the last three.
"It's wildly popular; we fill up the first day every season and have a waiting list," said Boaz, who said she has seen the same type of results as DeBoe.
"They're more confident, their self-esteem goes through the roof, their ability to interact with their peers and stand up for themselves," she said. "I've had discussions with current parents as well as parents who had their kids in this program before I was here, and they tell me, 'That was the one program that made such a difference in my daughter's life,' or, 'I saw a dramatic difference in my daughter within two weeks of starting the program in her ability to stand up for herself.'"
The teams don't just run — they start out with activities where they discuss their emotions or practice taking a negative statement about themselves and turning it into a positive statement.
Boaz says the program offers three different seasonal curriculums that it cycles through, so the content isn't immediately repeated and by the time it is, should a girl participate for four or more seasons, she may have a different viewpoint on the topic.
"That curriculum can change for them, because that idea that you have in your head when we have a discussion about bullying or self esteem or healthy choices when you're a third-grader is a different discussion that you have when you're almost a fifth-grader," Boaz said.
While the running component encourages and often improves physical fitness, Boaz said girls don't have to be natural runners to join.
"We always tell them it doesn't matter how fast you run, it doesn't matter if they have to stop and take walk breaks — as long as you're moving forward," she said. "They can run, skip, hop, I might not let them roll, but just anything to keep moving forward."