SM

North tennis opens season with tough test in

BV

West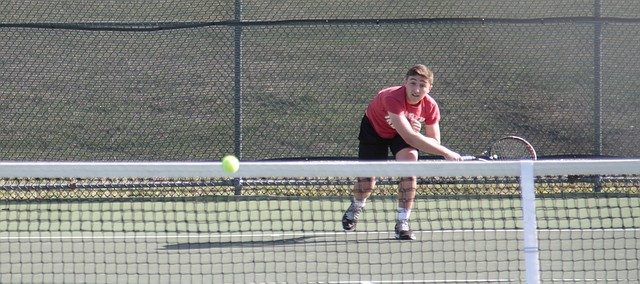 Overland Park — Shawnee Mission North tennis player Anthony Giambalvo has a high, but simple goal for his senior season: to qualify for the Class 6A state tournament.
Giambalvo and the rest of the Indians' squad got a good taste of what the state tournament will look like when they faced defending Class 5A champion Blue Valley West to open their season, Monday.
The Indians were unable to take a match in singles or doubles from the Jaguars, but Giambalvo felt that going up agains the Jaguars was a good experience for him and his teammates.
"It's pretty fun," Giambalvo said. "Even though we don't come out on top, it's always good playing people who are better than you because that's probably the main way that I think my game gets better."
Giambalvo and doubles partner Grant Oltremari came the closest to pulling out a victory — falling to Hayden Smith and Emre Yurtbay, 8-5. The SM North doubles tandem saw a lot of positives and negatives from the match that they could reflect on going forward.
"I think for not playing doubles in such a long time, I think me and my partner's teamwork was pretty good," Giambalvo said. "We just kind of had a lot of errors, but we'll get better on it next time."
Singles play did not treat the Indians well either, but the scores of the individual games were much closer than the final match results indicated.
Senior Keighan Miller regularly pushed BV West's Nick Moody to deuce or 30-40, but went on to lose 8-0. Despite not being able to win a game in his season debut, Miller said that it was good to finally face someone other than one of his own teammates.
"It was nice to get out there finally and play someone that we don't play every day in practice, and get an idea of what our competition is going to look like," Miller said.
The Indians will get the chance to see a lot more competition for the remainder of the week, as they host a dual against SM West on Tuesday and will be in action against on Wednesday for their first tournament at Mill Valley.
"It's going to be shaking off the rust. It's going to be a good week. I expect us to look better each day," SM North coach Zach McKamie said. "We not only expect that, but that's what is going to happen. They know it, too. You can see that they were getting more confident in a lot of shots toward the end of the match."