On the job: Shawnee sixth-graders research careers, interview professionals for 'career fair'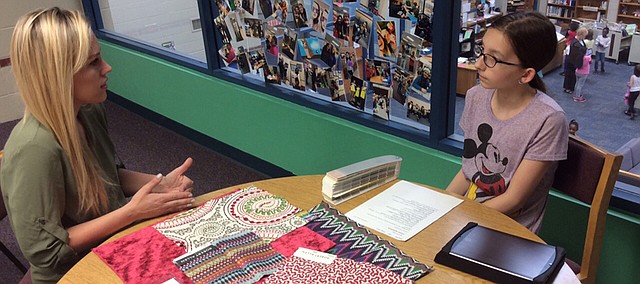 Javon Love was eager to explain the skills required to be a civil engineer.
"They do a lot of creative thinking," he said. "They have a very important job. They help with the environment and help the city get better."
Across the room, James Cole was explaining how people now can make a career out of producing videos for YouTube.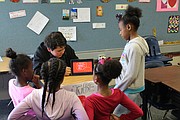 "It's a job where you can get paid, but you can have fun while doing it," he said.
The Broken Arrow sixth-graders Tuesday were presenting the results of an English language arts project called "When I Grow Up." The students chose careers ranging from a wildlife photographer to an astrophysicist and not only researched the jobs, they each spoke to a professional in their chosen career.
The culmination was creating a presentation for a "career fair," where the sixth-graders presented their research to students in all of the lower grades, as well as parents.
Kristin Fulps, sixth-grade English teacher, said she decided to create the project this year to not only expose her students to potentials careers, but the whole school population.
"I think they're typically used to seeing what their immediate families do, or professional famous people," she said. "So unless they're exposed within their family to different careers, they don't see those opportunities. So this really kind of hopefully exposes them at a young age that, oh hey, there are these other things out here and maybe that is something I would be interested in pursuing."
The 57 sixth-graders at Broken Arrow first were required to "pre-search" at least two different careers and then narrow them down to one they would like to cover for their project.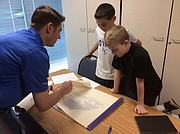 Fulps said astrophysicist, paleontologist and geneticist were among the careers that were a bit unexpected.
"The kids that chose them, it didn't surprise me based on their personalities," she said. "I could see them pursuing that career. In a way I was surprised because I wouldn't have thought to put those on a list, but in another way, when you see the kid that has chosen it, you think, 'Yeah, this is kind of your skill set.'"
But those unique careers caused a bit of difficulty in one of the next steps of the project. After the students researched articles and facts about their chosen career, citing their sources, and identified at least eight vocabulary words related to the career, they had to write a formal letter to and then interview a person working in that career.
Some students' parents found interviewees among relatives or friends. The power of social media often helped, especially for the student looking to interview a film director. Her mother made a post on her Facebook page, and a friend was able to get the student in touch with two of her childhood friends who had become film directors and now live in Los Angeles.
"So we actually had a phone interview with two film directors in L.A., and that was really cool," Fulps said.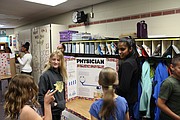 In the end, the school reached out to the community for help finding interviewees for 12 jobs that included a dog trainer, inventor/entrepreneur, seamstress and Marine.
The astrophysicist was the hardest to track down; Fulps sent an email to Kansas University's department of astronomy and physics and eventually found a professor for the student, Jacob Sell, to speak to.
To finish up the project, the students wrote an essay on their findings and then had to synthesize it into a project such as a PowerPoint, iMovie, posterboard to share with others at Tuesday's career fair.